Deli serves fun along with its food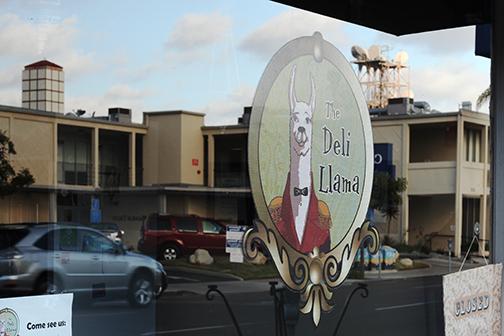 Open the door to the Deli Llama and you'll find yourself stopped short, unable to move past the queue that snakes all the way to the entrance.
A phone rings and an employee jots down sandwich orders from businessmen calling in their lunch orders. A collection of llamas are scattered around the small sandwich shop and a stack of books towers high next to the cookie selection. A large chandelier completes the comfortable, eclectic vibe.
If you feel like you've stumbled into a circus upon walking in, then you're probably at the Deli Llama.
The extensive sandwich menu has a wide variety of distinctly different sandwiches. The Deli Llama offers soups, entree salads and side dishes. Like any respectable sandwich place, the Deli Llama also has vegetarian options.
Every item on the menu has a circus-centric name, and so I opted for The Juggler. This sandwich contained roasted chicken, bleu cheese, Granny Smith apple slices, bacon, spinach and honey mustard on eight grain bread. I also tried the Tightrope Walker, a panini with chicken, pesto, provolone, spinach and sun-dried tomatoes.
My companion ordered the Tattooed Lady, which was an albacore tuna salad with Jack cheese, avocado and sprouts.  The sandwiches arrived wrapped in parchment paper with a stack of napkins and after-dinner mints. The mints are provided so I don't leave the restaurant with bacon breath, I presume. It's a gesture I appreciate.
All of the sandwiches were complex, with several different flavors and textures. As a lifelong lover of sandwiches, I feel truly qualified to say the sandwiches at the Deli Llama were entirely excellent. I particularly enjoyed the crunch of the apples and the chew of the bacon on The Juggler.
The Tightrope Walker's combination of pesto and sun-dried tomatoes was delightful. Lastly, as someone who never orders tuna, I thought the bite I had of the Tattooed Lady was surprisingly light and refreshing. The sandwiches didn't cost more than $8, with the exception of one: the Lion Tamer made with roast beef, ham and turkey for $8.50.  Other menu items such as side dishes and drinks are also reasonably priced.
The deli is small, with limited seating inside. However, I found the coziness of the space added to its overall charm. The quirky atmosphere created a sense of community. The friendliness of the staff makes customers feel as though they are enjoying their lunch in an extension of their own home.
Overall, the Deli Llama's sandwiches are splendid, bursting with rich flavors and sustainable ingredients.  Using ingredients specific to the local clientele, there is a palpable pride the Deli Llama has in its menu and a substantial loyalty from its customers. Located in the heart of Hillcrest, the funky deli is the perfect complement to an afternoon in the neighborhood or just a treat to get away from studying.
Photo by Wesley Beights.