SDSU Hockey pummels 49ers 10-1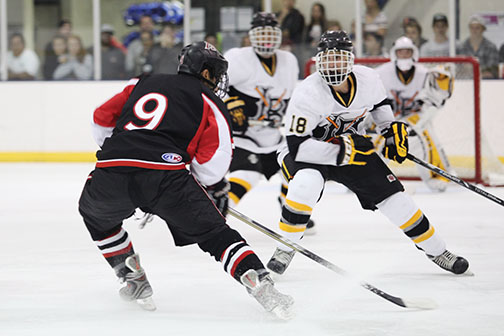 After a 10-1 demolition of Long Beach State University on Saturday night, the San Diego State Hockey Club made one thing  clear: They are not afraid of the 49ers.
In a rematch of their first game of the season, the Aztecs soured the 49ers' home opener and closed out the season series by outscoring Long Beach 18-3, improving their all-time record against the club to 16-3.
With a stellar 4-point performance, senior forward Alex Cambas tied into 11th place all-time in points scored as an Aztec.
With less than six minutes to go in the first period, junior forward Conor Pope and sophomore left winger Travis Sevilla set Cambas up nicely for his first goal of the night. In the second period, Cambas intercepted a weak Long Beach pass and sprinted his way down the ice for an impressive short-handed goal.
After two of the Aztecs' 20 penalties left Long Beach with a 5-on-3 advantage, Cambas found himself on a breakaway yet again. Extra effort from the veteran forward resulted in a rebound on his own missed shot, which he snuck around the far post on the wrap-around.
[quote]"I was coming down hard, the guy was on me and slashed me a couple of times. Had to fight through it and got a nice little wrap-around," Cambas said to SDSUHockey.com as he was searching for breath during the second intermission. "I had to brush the dirt off my shoulders 'cause, you know, it was my third goal of the night."[/quote]
Other note worthy performances came by way of freshman defender Vincent DiMaggio and sophomore right winger Alec Christoff. The pair had two scores each. DiMaggio scored both of his goals in the first period, with the second resulting in a change at goalie for the 49ers.
Junior goalie Filip Curkovic enjoyed his first win of the young season, stopping 34 of 35 shots.
The Aztecs' next game is at home  tonight at the Kroc Center at 9 p.m. against Loyola Marymount University.
Photo by Wesley Beights, Staff Photographer