'Travesties' baffles and delights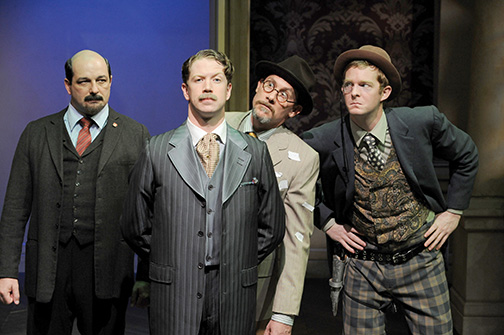 There are two things that you need to know before watching "Travesties" at the Cygnet Theatre in Old Town. The first is that it's hard to appreciate the play without seeing "The Importance of Being Earnest," at the Cygnet, beforehand. The second is that even after viewing "Earnest," Tom Stoppard's work is still a sometimes ludicrously complex trip.
Set in the early 20th century and loosely based on real events, the highbrow comedy revolves around Henry Carr (Jordan Miller), a World War I veteran, who works in the British embassy. His tale is full of fascinating moments and encounters with influential men, including author James Joyce (Patrick McBride), artist Tristan Tzara (Brian Mackey) and communist revolutionary Vladimir Lenin (Manny Fernandes).
The best way to describe "Travesties" is that it's like a mixture of "Midnight in Paris" and "Shakespeare in Love," which Stoppard also wrote. Similar to the former, the story combines real-life people and fiction to make observations about the importance of art and the passage of time.
Even though the program has a detailed glossary, it helps to go to the Cygnet's website beforehand to get an idea of all the allusions referred to in the adventure. Some of them are so obscure and random, that theatergoers may feel distanced from the plot, if they are not familiar with the facts that inspired Stoppard's script.
For example, while many people know about James and Vladimir's accomplishments, only hard-core theater geeks will understand the importance of Tristan and the Dada movement. The many jokes revolving around him are a lot funnier, if you have prior knowledge, especially when Stoppard comedically parodies the group.
"Travesties" is comparable to "Shakespeare in Love" because Henry's life starts to parallel "The Importance of Being Earnest" comparably to how the Academy Award winner had similarities to "Romeo and Juliet." This is the biggest issue with Stoppard's writing. The sequences where Oscar Wilde's classic is explicitly referenced are not as amusing as Henry's interactions with James, Tristan, Vladimir or his wise butler, Bennett (David Cochran Heath).
What keeps "Travesties" bizarrely entertaining is the way director and co-founder, Sean Murray presents the piece. He works with San Diego State alumni, sound designer, Kevin Anthenill, and set designer, Sean Fanning to create a theatrical world where anything can happen. The adventure is an experimental one with lengthy monologues, limericks, whimsical flights of fancy and even features some musical numbers.
"Travesties" will not appeal to everyone, but Murray and the cast make the show a journey worth taking. At the very least, it should inspire attendees to learn more about arts, culture and politics during this time period.
Tickets and information about "Travesties" can be found at cygnettheatre.com.
Also read: 'Earnest' isn't a cookie-cutter play
Photo courtesy of Ken Jacques