Dessert spot's menu is 'Up2you'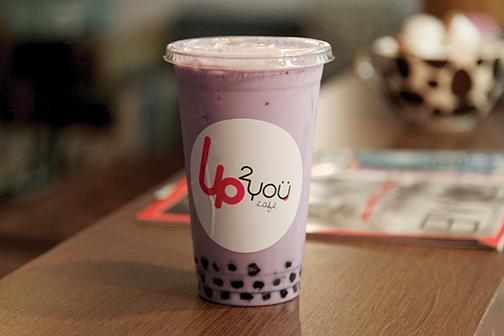 A glowing sign hangs in the window.  In circus-like lettering it reads, "Open," drawing the wanderers of Kearny Mesa into a cozy space.  Birdcages hang from the ceiling containing naked light bulbs.  Empty frames of various sizes are tacked onto the walls, and couches and mismatched tables and chairs make up the seating.  Up2you Cafe is a small dessert and drink spot that appeals to the inner hipster in all of us.
Up2you Cafe has a menu that matches its one-of-a-kind and quirky decor.  Its three main dessert entrees live up to the restaurant's name regarding the ability to customize and make any order your own.  Crepes, honey toasts or Belgian waffles can be ordered with any combo of sauces, fruits, ice creams or other toppings such as nuts or chocolate chips.  Honey toast is a dense yellow cake that has an almost bitter taste, disguised by added toppings such as chocolate ice cream and Nutella.  However, these three are not the only desserts offered at Up2you Cafe.  Sticky rice with mango, cheesecake and a combination of cotton candy and ice cream are also featured on the menu.
The drinks at Up2you Cafe are as intricate and delicious as the dessert items.  A gamut of teas is available alongside coffee drinks as simple as a cappuccino or as complex as a peppermint mocha, all of which are served either hot or iced.  When a refreshing beverage is needed, tea frappes, fruit smoothies and flavored sodas are available to quench all thirsts.  All drinks can be ordered with tapioca pearls (better known as boba) that make the drinks even more delightful.
The presentation of the dishes only add to the fun atmosphere.  All cold drinks are served in mason jars, and some dessert platters are dusted with sugar or cocoa to form the words, "Up2you Cafe."
Customers will not leave Up2you Cafe either hungry or broke.  Dessert portions are shareable, especially when coupled with filling drinks like boba tea.  Most customers I spotted had bonded over a hunk of honey toast, shared among multiple people.  Honey toast starts at $3.75, and Belgian waffles and crepes start at $3.50.  Each topping or sauce costs 50 cents, and each scoop of ice cream or serving of fruit costs $1.  This build-your-own-dessert aspect allows customers to create a masterpiece based not only on their taste buds, but their wallets as well.  Drinks hover around $3, with boba costing an extra 50 cents.
It's clear that Up2you Cafe is trying hard to be the hippest hangout spot for young people to eat and drink while playing games or working on homework assignments.
"I feel like I'm eating inside of an Urban Outfitters," psychology senior June Branon said.
Up2you Cafe is the perfect spot for a weekday night when gossip with a friend needs to be accompanied by something sweet.  If you're bored of the American dullness of your local Starbucks, visit Up2you Cafe and inject some Asian tastes into your night.
All photos by Monica Linzmeier.