Outdoor cinema offers cozy evening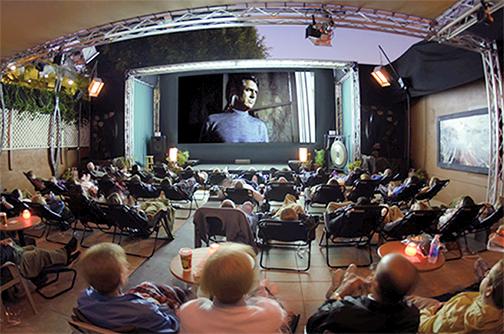 Usually, the closest moviegoers can get to a great outdoor silver screen experience is taking a convertible to a drive-in. Luckily, Cinema Under the Stars theater brings the motion picture experience even closer in a more intimate setting.
Cinema Under the Stars is an outdoor theater in Mission Hills. Attendees can watch a variety of film selections, new and old, in the comfort of a recliner under the night sky. The theater is about half the size of other commercial chains, such as AMC Theaters or Regal Cinemas. The venue may be small, but the experience is much more personal. Besides, most theaters don't have recliners for viewers to lounge in during a flick.
The theater also has accommodations for when the night gets chilly. The outdoor patio houses heaters to ensure attendees stay warm. Blankets are also provided for an even more relaxing evening. The theater is even prepared for rainy days with a retractable roof covering. As the website says, Cinema Under the Stars has "all the amenities to keep you warm, cozy and dry."
The programs at Cinema Under the Stars are uniquely split into two according to the season. From March 1 to April 26, the theater plays current hits. It features classics and cult favorites from May 2 to Nov. 16. The horror masterpiece "Night of the Living Dead" and Alfred Hitchcock's thriller "The Birds" are some of the titles showing in the coming days.
Seat reservations are needed to watch the selections. The theater is relatively tiny in space and only has one cinematic adventure per night, so it may be best to buy tickets early. Reservations can be made either at the box office or online. Be aware of showtimes and operating days because they can change depending on the season. For a different kind of movie night, grab a seat at Cinema Under the Stars.
Also Read: Hitchcocktober brings suspense to San Diego 
Photo courtesy of Doug Yeagley