Hockey Club drops two games to Sun Devils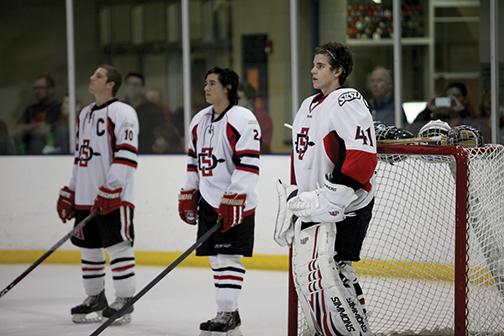 The San Diego State Hockey Club fought through a tough series this weekend against Arizona State University's Division II team, leaving Arizona winless for the second time this season. The Aztecs fell to the Sun Devils 7-1 last Friday and 6-5 on Saturday.
SDSU is 3-4 this season and has surrendered all four of its losses to ASU- affiliated teams.
SDSU took a mid-game nap in Friday night's game, allowing five goals in the second period, three of which came in a span of less than three minutes.
Head coach Chris Migliore made sure his team was poised and prepared to show its resilience in Saturday's nail-biter.
Junior defender Danny Koressel was an early producer, forcing a turnover in the Sun Devils' corner and feeding senior forward Cameron Davis for the opening goal halfway through the first.
With less than two minutes left in the period, Koressel planted himself in front of an ASU slap shot, deflecting it in the opposite direction toward Sun Devils' junior goalie Corey Frank, who was slow to come out and gather the puck. Koressel gave chase, picked Frank's pocket, and dumped it in the empty net for his first goal since opening night.
The Aztecs opened the second period with a power play goal from sophomore forward Travis Sevilla. ASU answered as expected, rallying off two consecutive goals of their own, bringing the game to a 2-2 tie. After a smart play on an ASU pass by junior defender John Riley, senior forward Eric Stelnick found the puck on the open ice and snuck his slap shot past the ASU backstop to give SDSU a 4-3 lead after two periods.
Following the Sun Devils' equalizer, "Rambo" Riley beat the third period starter senior goalie Kyle Dietriech with a glove side heater to regain the lead.
However, the third period proved to be one the Aztecs wish they could have back. Shortly after "Rambo's" goal, senior forward Alex Cambas was thrown in the box for tripping, and ASU's power play unit finally lit the lamp, cleaning up a rebound off the pads of sophomore goalie Connor O'Brien.
SDSU's defense, which has become a staple of the team so far this season, had denied ASU in its previous seven power play attempts.
With five minutes left in the game, an ASU slap shot was deflected nicely past O'Brien's glove side, allowing for the Sun Devil's third goal of the period. It was the first time ASU had taken the lead in the game.
SDSU will get ready to host the University of Nevada, Las Vegas for a two-game series next weekend at the Kroc Center. Friday's match up is scheduled for 9 p.m. and Saturday's will be at 3:15 p.m.
Photo by Wesley Beights, Staff Photographer