Say a big hello to 'The Last Goodbye'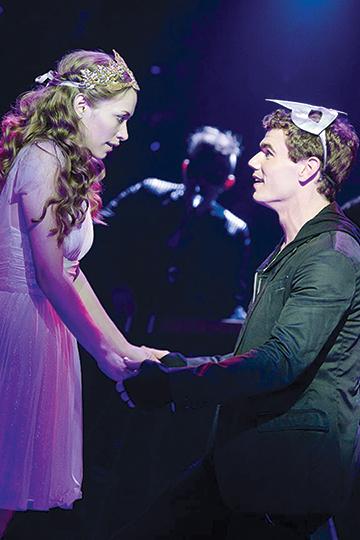 "The Last Goodbye" is not the first musical to be based on "Romeo and Juliet." Shows including "West Side Story" and even the Disney Channel Original Movie, "High School Musical," have been inspired by the classic drama. What makes this new version at The Old Globe feel fresh is the use of rock songs from the late musician, Jeff Buckley.
The tragic love story is familiar to practically everyone. Still set in Verona many years ago, Romeo (Jay Armstrong Johnson) is in a funk because a girl he has a crush on, Rosaline, does not like him back. During a masquerade ball, he falls instantly in love with a beautiful and passionate girl, Juliet (Talisa Friedman). Romeo and Juliet want to be together, but their parents and cousins are in a family feud. Inevitably, a tragedy of epic proportions ensues.
Conceiver and adapter, Michael Kimmel, features most of William Shakespeare's original text as spoken dialogue. Watching the unforgettable scenes recreated from the masterpiece is enjoyable and exciting.
Alex Timbers direction is full of energy and panache. This includes the fighting segments, directed by Kate Waters. The combat featured throughout is impressive and some of the best that has ever been staged at The Globe.
Timber incorporates Sonya Tayeh's choreography brilliantly, especially during the party where Romeo and Juliet meet. The fun that the dancers have onstage is irresistibly contagious.
Johnson and Friedman make a winning pair as the star-crossed lovers. They both have strong voices and great chemistry which adds to the bittersweetness of their romance.
A first-rate ensemble was assembled for this production. From San Diego State alumna, Nancy Snow Carr's surprisingly sympathetic performance as Romeo's mother, Lady Montague, to hilarious work from "Weeds'," Tonye Patano, as Juliet's nurse, all involved play their parts perfectly.
Before heading to Broadway, a couple of moments may need to be altered. A scene where Romeo and Juliet get married and become passionately intimate is campy and takes audience members out of the story. Also, the opening of Act 2, which revolves around a funeral, comes across as awkwardly melodramatic. However, taken as a whole, these are relatively minor problems and the dramatic impact should be easily corrected with minimum tweaking.
Featuring a jaw-dropping set from Christopehr Barreca and killer music direction from Kris Kukal, "The Last Goodbye" is a fitfully touching tribute to the legacy of two great artists, Shakespeare and Buckley. If the duo were alive today, they would likely be moved by this visceral experience and unique interpretation of a timeless tale.
Tickets and information about "The Last Goodbye" can be found at theoldglobe.org.
Also Read: 'Travesties' baffles and delights
Photo courtesy of Matthew Murphy