SDSU defeats Air Force, falls late to Wyoming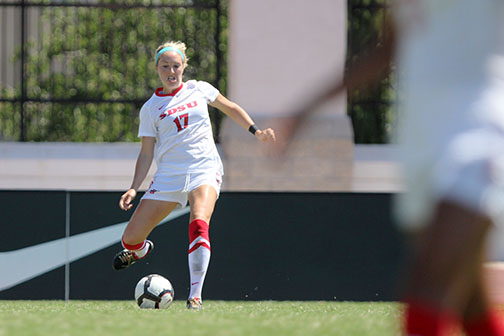 Looking to capture its first road victory of the season, San Diego State's women's soccer team capitalized heading into last weekend with a 2-0 victory against the Air Force Academy Falcons, but fell short 2-1 in the closing minutes of a tight duel against the University of Wyoming Cowgirls.
On Oct. 11, the Lady Aztecs paid a visit to the Air Force Academy as their first road stop in Mountain West Conference play. In the 14th minute, junior forward Hannah Keane, a familiar name on Montezuma Mesa, once again scored a goal on a 25-yard shot to put the Aztecs on the board early 1-0. This marked Keane's eighth goal in SDSU's last six games.
The Aztecs didn't need any more scoring after that, although freshmen forward Morgan Darling scored her first goal of the season in the 34th minute with a 10-yard shot. SDSU finished this contest outshooting the Falcons 13-3, holding Air force to just one shot on goal. The Aztecs made it 14-straight wins against a MWC regular-season opponent after this victory.
Two days later on Oct. 13, SDSU headed to Laramie, Wyo. to face off against the Cowgirls. Looking to win their second straight road game, the Aztecs put the first points on the board in the 32nd minute with a goal from senior defender Carli Johnson, as she scored a header off a corner kick. With an early 1-0 lead, SDSU looked determined to leave Laramie with a victory, until things took a turn in the 73rd minute of this contest.
Things started to go downhill for SDSU late in this contest when the Aztecs were called for a foul resulting in a penalty kick.  Wyoming's junior midfielder Loren Mahoney took full advantage of the free penalty kick as she tied this game up with a goal over the outstretched arms of redshirt sophomore goalkeeper Melanie Vaughn.
Three minutes later, the Aztecs were called for another foul resulting in another penalty kick. The Cowgirls wasted no time sending Mahoney up for the free kick as she took advantage of the opportunity yet again, scoring her second goal of the game. This goal sent the Aztecs packing, as the late penalties came back to bite them. This loss snapped SDSU's 14-game winning streak against a MWC regular season opponent.
Next up, the Lady Aztecs will face off against the University of Nevada, Las Vegas Rebels back home at 7 p.m. this Friday on the SDSU Sports Deck.
Photo by Jordan Owen, Senior Staff Photographer