Commuter Center for new Aztec Student Union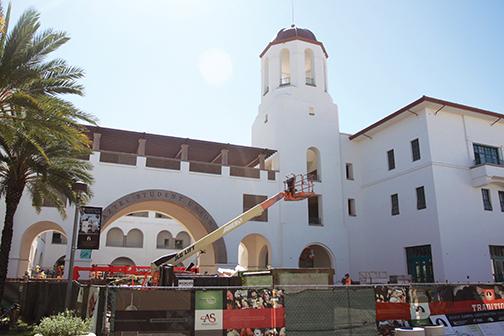 A Commuter Resource Center will be opening in the Aztec Student Union to give commuter students the opportunity for assistance and to experience a source of community on campus. Designed to promote unity and provide incoming students with a welcoming college experience, the center will offer aid and act as a gathering place for those traveling to and from campus on a daily basis.
Approximately 25,000 students commute every day, and only 4,000 of the total student population live on campus, Assistant Director of Student Life & Leadership Robyn Adams said. She expressed her excitement for the center as a commuter and member of the Commuter Student Success Committee.
Many local universities, including the University of San Diego and the University of California, San Diego, already have similar spaces available for commuter students, a trend that has recently caught on quickly among schools throughout the U.S.
Adams described some of the services that may be available to students as plans for the center become more solidified. Academic workshops, career development sessions, study abroad workshops and vehicle maintenance workshops are among the services being discussed for the center. Adams was especially interested in a "classroom tours" option that would help students find classes before the first day of school each semester. "Commuter Appreciation Week" and "Coffee Pick-me-up Days" are some of the interesting ideas that have been discussed and are largely popular on other college campuses with similar resources for commuters, Adams said.
Associated Students Vice President of External Relations Javier Gomez said the center will provide a community for commuters.
"We are really excited because for the first time, commuters have a place to come to," Gomez said. "We want to make sure everyone has a place to relax and enjoy, and we are hoping students will find that with the center."
Assistant Student Life Advisor Melissa Gonzalez described the Center as a central "hub" where commuter students will be able to utilize a lounge area and the special services provided.
"We want students to be able to come and hang out but also be there for them as a resource…if they are lost, or have any questions we want to be able to help them," Gonzalez said. "As a commuter student, you come in and you don't know anyone. You don't live on campus so you are not as well-informed with what is available to you, so we want it to be there as a resource."
The Commuter Resource Center will be funded through the New Student Union fee referendum and will be managed by Student Life & Leadership. It will be completed along with the Aztec Student Union this fall.
Photo by Monica Linzmeier, Photo Editor