Small musical just might be a hidden gem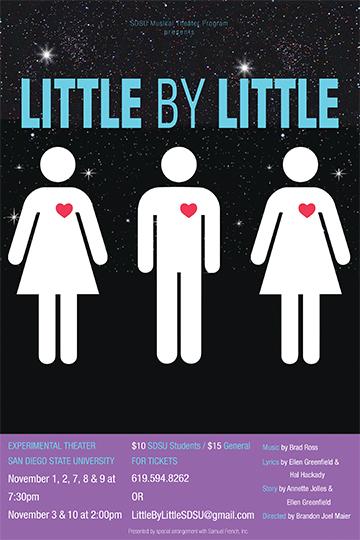 "Little by Little" is a musical coming to San Diego State that is not technically part of the School of Theatre, Television & Film's fall season. This production deserves as much attention as the big plays, because the director and cast have had years of professional experience.
The show follows the lives of three close friends, played by Kimberly Doreen Burns, Cody Walker and Sasha Weiss. The sung-through story follows their complicated relationships with each other from youth to adulthood.
Director Brandon Joel Maier spent a big chunk of the last several years acting in different shows. He gave a hilarious performance in "A Little Night Music" at the Don Powell Theatre last semester and was in an acclaimed production of "Fiddler on the Roof" at the Lambs Players Theatre. In addition, he codirected "Little Women" on campus and was responsible for an original tribute to Disney movies, "Wish: A Musical Revue."
Burns has a fantastic voice, which was used beautifully in "I Love a Piano" and "A Little Night Music" on campus. In addition to performing at SDSU, Burns has acted in several musicals outside of San Diego, including a beloved interpretation of "South Pacific" at the Forestburgh Playhouse during the summer. She will likely have some wonderful musical numbers that showcase her powerful singing chops in "Little by Little."
Walker has been an actor for practically his entire life and was featured in national tours of "Joseph and the Amazing Technicolor Dreamcoat" and "42nd Street." The male lead has displayed his comedic skills in "I Love a Piano" and  "A Little Night Music." Given that "Little by Little" is considered to be lighthearted, Walker should have some very hilarious moments on stage.
Weiss is not only involved with drama, but has also performed themed cabarets in Manhattan, N.Y. Aztecs can get the chance to see her live tonight at Martinis above Fourth in a one night-only cabaret event, "Words of Weiss-dom."
With so much talent involved with "Little by Little," why is it so under the radar? It's because there has not been a lot of stagings since the critically adored versions ran off-Broadway in the 90s.
"Little by Little" is an intimate story far removed from the grand spectacle of popular Broadway hits, such as "The Phantom of the Opera" and "The Lion King." That should not take anything away from the vocals or the emotional impact of the tale.
"Little by Little" seems destined to be a warmhearted look at companionship. Expect a good-natured evening of irresistible songs sung by a winning cast.
Also read: 'Travesties' baffles and delights
Photo courtesy of Ana Meza and Brandon Joel Maier