The iconic anchorman is finally back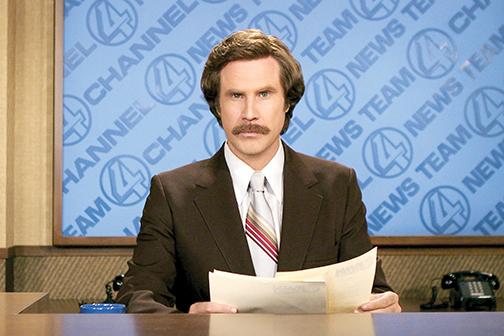 Ron Burgundy is back and hopefully better than ever in "Anchorman 2: The Legend Continues." Ron (Will Ferrell) and crew are ready to take on a 24-hour news network in New York.
From the looks of the trailer, Ron and his friends haven't changed a bit as they greet the '80s. The star-studded cast, including returning actors Paul Rudd, Steve Carell and Christina Applegate, boasts some of the more famous comedic actors of our time: Tina Fey, Jim Carrey and Kristen Wiig, to name just a few.
The film certainly has a lot to live up to. The original, released in 2004, "Anchorman: The Legend of Ron Burgundy," has established itself as one of those comedies—the one everyone has seen, and even if you haven't seen it, you probably still know what the phrases, "stay classy, San Diego" and "well that escalated quickly" refer to. The original movie's ubiquitous nature sets a high standard for the sequel, making fans hope "Anchorman 2" will be on par with the first.
It would seem, though, that all the critical elements are still there. Same brilliant comedians? Check. Same hilarious writer-director, Adam McKay? Check. Same well known producer, Judd Apatow? Check.
Personally, I'm excited to see Ron, Brick (Carell), Brian (Rudd) and Champ (David Koechner) together gain as they foray into the big city and a new decade. After all, they say that with a good group of friends, anything is possible—be it working at the world's first 24-hour news station, or successfully talking to women.
"Anchorman 2: The Legend Continues" is set to be released on Dec. 20. Until then, stay classy, San Diego.
Also Read: 'Captain Phillips' quite a catch
Photo courtesy of Dreamworks Pictures and CDM