Women's basketball needs love, too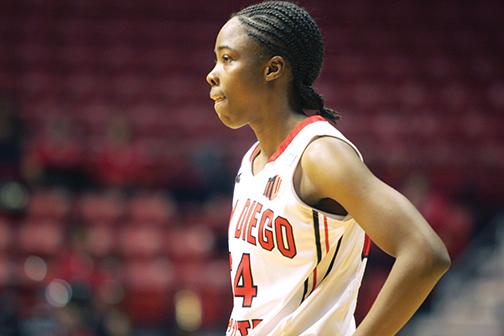 Despite back-to-back seasons of 26 wins or greater, women's basketball falls into the depths of anonymity at San Diego State.
Students have often heard of how men's basketball head coach Steve Fisher walked around campus handing out free tickets to students in hopes of increasing game attendance. Those days are but a distant memory, as students often need to camp outside days before tickets become available to guarantee seats inside of the sold-out games at Viejas Arena.
According to a statement released by the Goaztecs website, the men's basketball team averaged a school record of more than 12,000 attendants and ranked first among Division I schools in California during the 2012-13 season. SDSU went 14-1 at home and 23-11 overall that season.
During the same season, the women's basketball team had a total of 9,237 attendants at home games combined, according to the NCAA website. It averaged 734 attendants and went 14-2 at home and 27-7 overall that season.
At this point, the problem is obvious; people are not interested in women's basketball at SDSU. But pinpointing the cause and solution are far more difficult tasks.
Cameron Satterlee, host of the "Sports Monologue" on SDSU's KCR College Radio, said although he does not arbitrarily hate women's basketball, he can't change what he, and others enjoy. Though women's basketball never makes its way onto Satterlee's on-air agenda, he said he can appreciate the sport.
"One thing I respect about the women's game is that they play old-style basketball. Fewer dunks, more passing, more teamwork," Satterlee said.
Jordan Harrison, marketing senior and avid basketball fan said he doesn't understand why he's one of the few people to attend the women's games. The atmosphere, for obvious reasons, is not comparable to men's games, Harrison said.
"There's not much intensity at all," Harrison said. "All the noise came from the band section and if they weren't there you wouldn't hear much else from the stands. It's cool to be able to choose your own seat, but to choose your own row is kind of crazy."
The lack of attention on women's basketball is not a national phenomenon. According to the NCAA website, the No.6 University of Connecticut, winners of eight national titles, averaged 8,977 at home games during the 2012-13 season.
This year, the Lady Aztecs aren't ranked and may not hold a candle to the Huskies level of play. However, the men aren't ranked either this year, but the pandemonium for regular-season tickets sprouts every year like clockwork.
Maybe the team needs to start dunking and go undefeated. Maybe it also needs to win eight national championships so that it can receive any of the recognition it already deserves.
There are no more excuses. The women's team plays well and tickets are free to students. The venue is right next door. Before the new women's basketball head coach Stacie Terry starts walking into West Commons to hand out tickets, students should line up at the Viejas Arena Ticket Office and rejoice in watching a quality basketball team outperform its opponents.
Photos by Monica Linzmeier.