Aztecs receive crown at homecoming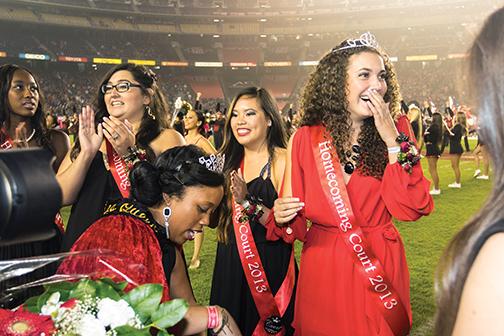 San Diego State's  "Rise of the Aztecs" homecoming celebration concluded this past weekend at the football game.
Members of this year's homecoming court were announced on the sideline as they walked the red carpet. Last year's king and queen, Tom Rivera and Channelle McNutt, assisted in crowning the 2013 king and queen: Jordan Harrison and Sonia Holzman.
"It feels absolutely amazing," Holzman said.
Both Holzman and Harrison will be working together to fund a community service event of their choice next semester, using the money endowed to them as king and queen.
"I know we are both interested in leadership and empowering youth, so we want to do something that will help future Aztecs," Holzman said.
As a member of the American Sign Language Club, Holzman expressed her desire to use her recognition as queen to promote awareness of the deaf culture on campus.
"It is amazing, phenomenal and indescribable," Harrison said of his crowning as this year's homecoming king.
He plans to work alongside Holzman to plan an event promoting student leadership, personal development, awareness of depression and community development among college students.
Harrison concluded with a message to SDSU students.
"You can do it," Harrison said. "Stay at it, work hard and be true to yourself."
The homecoming rally and team send-off on Friday evening brought together the SDSU community before game day, with a speech by SDSU's grand marshall and founder of Rubio's, Ralph Rubio. Anthropology department chair Seth Mallios also spoke at the rally to share the history of Aztec traditions, said homecoming chair and Executive Vice President of Associated Students Becca Cohen.
The first 500 students to attend received free burritos from Rubio's. Performances included the K.O. Hip-Hop Team and Phi Beta Sigma's step team, along with a roll call for all the student teams who had been participating in the homecoming events throughout the week.
Afterward, a student and alumni mixer hosted by the Greek community took place with free catering by Woodstock's Pizza.
The weeklong celebration of Aztec pride concluded at the game on Saturday at Qualcomm Stadium. The halftime buzzer went off at 9:20 p.m. SDSU's Marching Aztecs walked onto the field joined by 100 alumni band members in celebration of homecoming.
The winning student teams of the weeklong homecoming events were announced afterward, with the Student Veteran Organization coming in first place.
Kappa Delta won the Dean's Trophy for a Panhellenic organization. It was the third win in a row for the sorority, President Amanda Quintana said.
Photo by Kevin Serrano, staff photographer