Going bananas with Dada Life this Halloween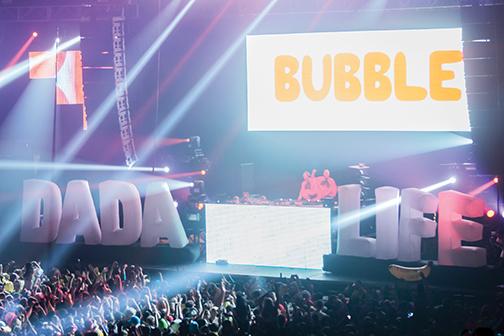 From 9 p.m. to 4 a.m., Valley View Casino Center was a mecca for electronic music. Seven hours of body shaking bass, mind melting lights and uncontrollable energy. Event organizers LED (my Life Every Day) has outdone themselves again, and put on quite the show. Concertgoers lined up outside the venue, dressed head to toe in their Halloween gear, ready to party. Dada Land Compound was an amazing start to the Halloween festivities.
Opening up the show was San Diego native Caveat. He was able to warm up the crowd with his mixture of hard thumping electro tunes and intense drops that got the crowd jumping off their feet. Up next was London's own Jacques Lu Cont with his grooving house beats. Miami DJ, Craze, took to the turntable next, and delivered a high-octane trap-infused set that turned up the crowd.
Only one act was left before Dada Life, and boy was it a great one. Clockwork from Los Angeles took the stage by force with his thumping bass and irresistible big room beats. Dropping some of the most cutting edge and biggest bangers in electronic music today, Clockwork was the perfect lead-in to Dada Life.
As the lights dimmed and smoke covered the stage, a hush fell over the crowd, as everyone, from the pit to the bleachers, held their breath in anticipation for seeing the unstoppable Swedish pair known as Dada Life. Known for their iconic banana logo, the duo took the stage dressed as a pair of apples for Halloween and opened their set with a bang. From that point on, the excitement never stopped. Da, and San Diego was.
The energy was so contagious, it was impossible to find a still body in the whole building. One of the craziest moments was when they brought one lucky fan (dressed as a banana) on stage to party with them. As the beat dropped and the crowd exploded with energy, the Swedish DJs popped champagne and doused the lucky fan as he raged on stage. Oh and did I mention the giant crowd-surfing banana? That was definitely bananas.
But the night wasn't finished after that. Ready to keep the party going was industry veteran A-Trak, who blew crowdgoers' minds with his legendary vinyl scratching skills. TJR, another San Diego native, kept the crowd on their feet with his-one-of-a-kind, unique, fun and funky sound. Ending the night on a high note was Michael Woods and his euphoric trance melodies. He kept the festivities going, even tossing out free bananas into the crowd (a staple in the Dada Life diet).
If I could, I would relive the Dada Land Compound again and again. The energy was palpable; the crowd came to party, and the performers blew past any and all expectations. If you weren't there to rage for Halloween this weekend, you better have had a good excuse for missing an unforgettable party.
Also Read: How TJR became a Festival Headliner
Photo by Kevin Serrano, staff photographer

About the Writer Alek Sanchez, Staff Writer
Alek is a business administration senior, with an emphasis in management information systems, but don't let his background fool you. He began writing for...