He's a freshman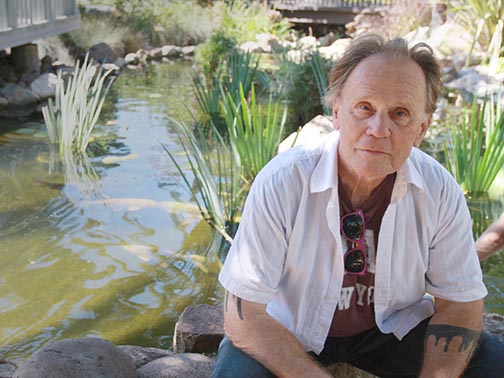 Ron Salisbury is young. His wrinkles and grey-speckled hair disguise an energetic youth. It's an understandable confusion to read the word "freshman" alongside his picture.
During his life he left a one-room school in Maine to fail at acting in New York, worked for the mafia as a casino pitboss in Las Vegas, traveled the world as an international banker and started his own line of espresso bars in Northern California. Salisbury's next destination? San Diego State and a master's degree of fine arts with an emphasis in poetry.
Salisbury decided at age 69 he did not care how old people are expected to act. He wanted to be a freshman again.
"People my age generally bore the s*** out of me," Salisbury said.
Salisbury feels comfortable on SDSU's vibrant campus.
"It's like wearing a very cozy old shoe," he said.
School, however, isn't the only activity young-spirited Salisbury engages in. He's a speaker at the Fashion Institute of Design and Merchandising and delivers high school lectures on about 20 different subjects in fashion. On the side, Salisbury also does interior designing.
"Young people are intrigued by him," poetry professor Sandra Alcosser said.
"(He's) very opinionated; very smart and rambunctious," MFA poetry and fiction professor Marilyn Chin said. "Seems like he had a vivid past life."
Born in 1943 and reared in central Maine, Salisbury felt alienated as a child. He attended a school with eight grades condensed into a single classroom. Isolated Maine life never suited Salisbury, and his parents offered little stimulation for his growing literary appetite.
"When I was a kid I wanted to be Robert Frost," Salisbury said. "I played football, for my dad mostly, but I only had one successful tackle, and that was because the guy ran into me."
He knew he didn't belong in Maine, but didn't expect the picturesque journey awaiting him. A friend of Salisbury's invited him to stay with him in New York City.
"I never set out to be something," Salisbury said.
Salisbury left for New York with $28 and a hotel address. His goal? To be a professional actor.
"I liked the idea of being an actor," Salisbury said. "I went for the money; I went for the fame."
Although acting promised opulence, Salisbury's passion for poetry persisted, and he shared coffee shops with beat-generation poets as prominent as Allen Ginsberg. Salisbury thoroughly enjoyed New York, thriving in the excitement and diversity of the city, but his acting career spiraled.
"I was a lousy actor. That was the problem," said Salisbury.
He resorted to bargaining, trading carpentry skills (for help with theatrical set building) for minor theater roles. Then Salisbury got a call from a friend in Las Vegas who needed a gambling partner.
The resulting card game lasted a decade.
"My car broke down in Vegas. I stayed for 11 years. And I only really went there to play pinochle," Salisbury said.
Salisbury rarely felt marginalized as a poet in Las Vegas in the 1960s.
"Nobody there fit in any other place," he said. "So we all came to Vegas and didn't fit in together. We were all oddballs."
He worked as a shift manager for a keno game and married a showgirl. Casino ownership differed in those days, however.
"Did I have any dealings with the mafia? Oh, sure. They were good guys," Salisbury said.
Although Salisbury, imbued with what he calls "the protestant work ethic" from his Maine origins, dealt pleasantly with the mafia, he escaped by following his showgirl wife to San Diego.
In San Diego, Salisbury started from the bottom again. "I went from being Mr. Salisbury to nobody," he said.
In his Las Vegas days, Salisbury's father-in-law taught him real estate appraisal as a possible future career. The former casino pit boss applied for a bank job and eventually worked his way up to the position of co-director of the appraisal department. He traveled the world, responsible for his bank's international property assessment.
"Every trip was a new experience," Salisbury said.
Throughout his 17 years traveling the world, Salisbury continued to foster his love of poetry, obtaining a bachelor's degree in both poetry and business and attending poetry groups. Towards the end of his international business arc, Salisbury moved to Northern California and promptly lost his job.
Salisbury decided to steer in a new direction: retail. He opened his own line of espresso bars, naming them Deaf Dog Coffee, in honor of his dog, Post, who was deaf as a post. Deaf Dog Coffee boomed. Salisbury opened multiple locations, created a profitable Deaf Dog Coffee clothing line and won the Small Business Association Businessman of the Year in 1999. Even Post achieved success, appearing on both Animal Planet and BBC.
Like the rest of his career endeavors, Salisbury's coffee business ended without warning. His espresso empire eventually fell to Starbucks. He quit coffee and returned to San Diego.
Salisbury's cycle continues. He first mused about getting an MFA three years ago. Although confident in his abilities, starting a new is Salisbury's greatest struggle.
"When you start over, you lose the importance you didn't know was important to you," Salisbury said.
After a lifetime of perpetual poetic rebirth, perhaps Salisbury won't die like the rest of us. One day a young, imaginative boy will stare out the single window of his one-classroom school in rural America and say, "There's got to be more."
Photo by Jenna Mackey, staff photographer