Student author desires to inspire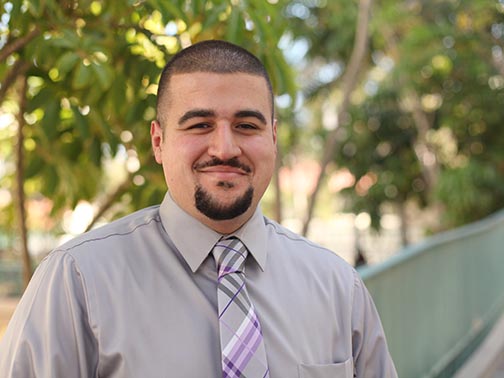 Between class, work, sports and a social life, most college students don't have time for anything else. This isn't the case for John Mikaelian. This transfer students from Los Angeles Valley College found the time to write, self-publish and sell a book through Amazon.com called "Reality Check: A College Student's Survival Guide," which outlines the positive and negative aspects of the "real" world.
Mikaelian is a first generation college student originally from Pasadena, Calif. He is majoring in business administration and management with a specialization in entrepreneurship. He started his college career at 22, after working retail for five years. During his retail career Mikaelian realized that opportunities for advancement were slim to none. This inspired him to become an entrepreneur. With a competitive spirit and a desire to catch up to other students his age, Mikaelian took 32 units his second semester at San Diego State.
Mikaelian's first step to becoming an entrepreneur was writing his own book to communicate an important message about the real world to fellow students and to encourage young adults to write their own books.
"I find that most students are not prepared for the real world and what's out there," Mikaelian said. "Nowadays students find themselves distracted by social media constantly. Quite frankly, I'm not sure if students are aware that when they enter the job market that they will be competing with other candidates from around the world, not just the U.S. It's a global economy and students need to be prepared for the future."
Mikaelian believes that the most important aspect of his book is the chapter on how technology has impacted the lifestyle of college students, including how social media has pulled our generation away from what needs to be focused on.
"In my book I try to guide the reader to focus on the job market, their education and how each student can prepare for their future," Mikaelian said.
He believes technology to be a superpower, depending on how it's used by an individual.
"I absolutely love technology, its great," Mikaelian said. "If a student utilizes the advantages of technology it can propel them to a whole new level professionally, but it can be distracting if used incorrectly. Technology is a tool."
Mikaelian believes that getting involved with sports or music production are common paths that young adults undertake when they are indecisive about their career paths. He has always been passionate about writing music, but found it easier to communicate his message writing a book rather than producing a song.
"Writing a book is an excellent way of expressing thoughts and sharing messages with the rest of the world," Mikaelian said.
Mikaelian desires to be viewed as a student and an author and wishes to inspire his peers.
"The most important thing to remember is that anything is possible," Mikaelian said. "You have to work hard, and there is no shortcut to success. Surround yourself with people you look up too and those who will help you to achieve your goals."
Mikaelian's competitive spirit, perseverance and desire to inspire shows SDSU students that it's never too late to pursue your dreams.
Photo by Monica Linzmeier, photo editor