Nathan Fletcher wants San Diego to get back to work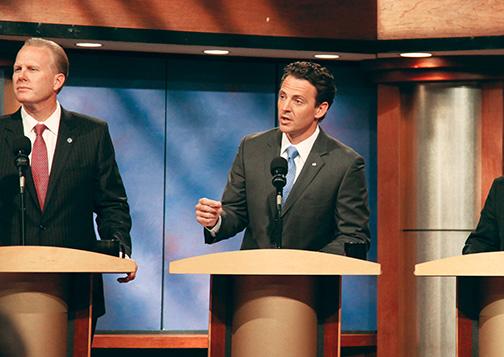 The Aztec: What would you do to improve transparency in City Hall?
Fletcher: There's a couple things. The first is the mayor has to be transparent. And a big part of that is the mayor has to be accessible. If I'm the mayor you're not going to need lobbyist … to express your concern to the mayor. And when I was in the state assembly, on weekends I would do these town halls in every community throughout the district I represented. I'd go to the library, the rec center. And I would go and give a quick update on what was happening and then I would take questions as long as people had them, and I've pledged as mayor to do the same thing. The other thing that I would do is continue the office hours at City Hall. That was something our previous mayor did that I think was good. The other thing I think is the release of public records act, making sure we comply, making sure we comply quickly, making sure not only me but the administration and staff understands that that means fully complying with the intent and the focus of the law.
The Aztec: If you were only able to make one specific change or complete one project as mayor, what would it be?
Fletcher: This notion of investing in our neighborhoods is my highest priority as mayor. It's the first thing that we have to do. We went from the eighth worst roads a few years ago to the fourth worst roads in the country. The number of police officers is down; the number of firefighters is down. Response times in the last two years alone, there's 37,000 times a first responder has been late responding to a 911 call.  And we've seen that lack of investment in the basic things that residents should expect. And we have to do better. Our residents expect us to do better and the priority and the focus needs to be on rebuilding and investing in our neighborhoods.
The city right now doesn't have an economic development plan. There is no plan for what they do. And so I've laid out a plan where we want to rebrand this as the world's most innovative city and embrace the creative economies and the innovative economies and a lot of those. But those opportunities are out of reach for a lot of San Diegans, and so we have to have a balanced economy, which means that there's opportunities for middle class and working class families.
And so the second thing I've proposed is the creation of a manufacturing zone along the Otay border. We have a lot of land down there (that's) prime industrial. And there's a lot of manufacturing coming back.
TA: What would you do to attract more high-skill jobs to San Diego for college graduates?
Fletcher: We're now going from and industrial society to an innovative society, where a lot of young people who are graduating from college a lot of times they have to create a job, not necessarily find a job. And so I've said we want to be the startup center of the world. And we want to be the best place to launch your startup, to attract venture capital, the best place to invest.
We want to measure the actual number of patents as a city. And when you set goals and you have metrics and you hold yourself accountable then all of the policy decisions start lining up with how does it help us achieve that goal.
Finally I would say we need to work collaboratively with our higher education institutions. We need to work collaboratively with the mayors of other cities. If there's an opportunity in another city in San Diego (County) that's good for all of us.
TA: Given your shifting political affiliation and at times inconsistent voting record, how will you assure voters that you will be the person in office that you are running for office?
Fletcher: I would point to the simple reality that I've always said that I'm going to do what I believe is right. And I believe that we need leaders that are willing to listen to folks that they may not have listened to before. I think we need leaders that are willing to gain a perspective that they may not have had. Or leaders who are willing to acknowledge that the world's changed. I've always been that type of leader.
When I started off in the Republican Party I was never a good fit. I was always the lone Republican supporting women's right to choose, supporting equal rights regardless of sexual orientation. And what I saw over the course of my time in the Republican Party, it changed significantly. It became very dominated by the Tea Party, it became more extreme, much like you see in Washington today. And so parties change. And then people change. I became a father. When you have kids it changes how you think about public education. I went to war, I came back from war. I watched my buddies not get the care and treatment they deserve. That changes how you view that. And in the recession in particular, we've seen the erosion of the middle class. I came out of that. My dad was a factory worker, he became a cop. I was the first one in my family to go to college on a scholarship. And the whole point of the American dream is not that you have equality of outcome, or that you have equality of ease … But what there is and what we promise is equality of access. And equality of access means that every child gets a good public education. It means that folks that work hard have an opportunity to move up. And that means we have a healthy and vibrant middle class because that is the stepping stone to real success. The challenge is for a lot of folks that are there are trying to apply old solutions to new problems. They should acknowledge the world's changed, they should acknowledge we have to think about things differently.
TA: After the Filner scandal that went national and tarnished the reputation of San Diego in the eyes of the nation, what are you going to do to restore our image in San Diego to the nation and to the world?
Fletcher: The people of San Diego didn't do anything wrong, the city workers of San Diego didn't do anything wrong, and so I think that that is beginning to change already with the resignation. I think Todd Gloria is doing a very good job as the interim mayor in really restoring stability. There will be a lot of attention paid on the next mayor. That's where I think we need a mayor who's going to come in and say it's time to get back to work.
I feel very positive about the next decade. I think there's such an opportunity over the next seven to 10 years to really do things in San Diego that people 40 or 50 years from now will look back and say that group of people at that time, they figured out how to do it.
Photo by Monica Linzmeier, Photo Editor