Megan Thompson: Lightning on ice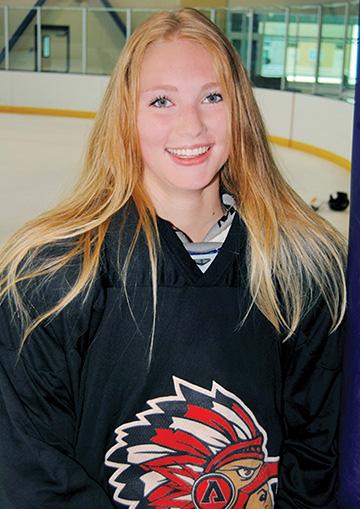 When you step into The Salvation Army Ray and Joan Kroc Corps Community Center to watch the San Diego State Hockey Club play, you will get an idea of what to expect from hockey fairly quick.
You might see junior defensemen John "Rambo" Riley with an opponent lifted off of the ice with their face pinned against the glass. Or, you might see the speedy senior forward Alex Cambas racing into the opponent's zone, stealing a pass and slipping it through the five-hole.
However, when you see a long blonde ponytail hanging out of an Aztec helmet, covering up the skater's surname, remember that it's Megan Thompson and she came to play.
The freshman marketing major from Seattle, Wash. is the first woman to play on the SDSU Hockey Club in Aztec history. Her first time playing came as a surprise during the recent overtime win against the University of California, Los Angeles.
[quote]"I didn't expect to play this year honestly," Thompson said. "I expected to just practice with the team so I could play next year, and then coach told me I was playing in the game and I was like 'Oh god.' I was freaking out."[/quote]
Having played on men's teams for the majority of her hockey career, Thompson's toughness has become synonymous with her name.
"I spoke to Megan at the beginning of the season and it was clear that no matter if she was a girl or a guy, she's a hockey player," head coach Chris Migliore said. "The expectation is that she's going to come out and contribute to the team whether it's in practice or in a game. She's here to produce, not just because we have room for an extra player."
Megan originally planned to attend the University of Colorado and play on its women's team, but selected SDSU instead to get a break from a life that had always revolved around hockey.
In fact, she had no knowledge that the hockey program existed. Her passion for the game got the best of her when she went to a freshmen event at the Aztec Recreational Center and saw the SDSU Hockey Club's booth.
"I saw the hockey table and asked them if girls could try out, and they thought I was joking," Thompson said. "So, I came to tryouts and they all said, 'Woah, she was serious.'"
Barring injury, Thompson plans to play a full four years with the team, with expectations of becoming nothing less than a consistent contributor.
[quote]"If we're talking four years, and she sticks with it, I expect her to be a major contributor like I would for any four-year player," Migliore said. "We lean a lot on our veterans. By the end of this year I expect her to feel comfortable playing in any game situation."[/quote]
With good attitudes and positive reinforcement, Thompson's teammates provide a consistent surge of motivation for the young freshman, whether it's helping her with drills, picking her up for practice or helping her adjust to the overall speed of the game.
[quote]"Everybody helps her out and works with her to keep her up," team co-captain Eric Stelnick said. "The effect of her on the team has been positive. Everyone is positive around here."[/quote]
According to Migliore, her biggest hurdle this season will be getting to understand the system, digesting the different game plans put in by the coaching staff and getting use to the grind of a full week. However, make no mistake. Megan Thompson belongs.
"She does not think of herself as just a girl playing a guy sport," Migliore said. "She thinks of herself as a hockey player. It's nice to see our players embrace it. Some teams might think it's some kind of joke or sideshow, but these guys don't. They respect Megan. She doesn't mind getting hit."
If you're a fan of hockey and like to watch a physical game, come on down and watch the SDSU Hockey Club do what they do best. And don't be surprised if you see a blonde ponytail flying across the ice.
Photo Courtesy of SDSUHockey.com