Faulconer offers generic solutions to complicated problems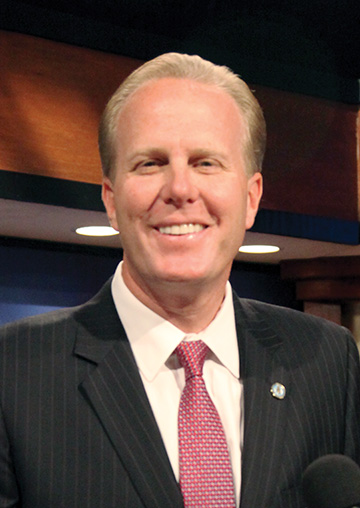 During the past few weeks, I have written about two of the top four candidates in the upcoming San Diego mayoral election. This week, I researched Kevin Faulconer to learn enough about him to write an educated opinion about his candidacy and potential term in office. After reading through his entire campaign website and comparing the ridiculous number of articles along with the hundreds of unsurprisingly useless angry troll comments about him online, I have learned that Kevin Faulconer is the most uninspiring, meek and frankly boring candidate on the Nov. 19 ballot.
In response to every question he's been given, Faulconer favors the typical vague answers and talking points that were clearly prepared by a team of campaign advisors. In a recent Voice of San Diego debate, Faulconer was asked about his Neighborhood Fairness Plan, in which he references "communities that have been neglected too long." The moderator asked Faulconer specifically what communities he was referring to and he avoided the question until things just got awkward.
In an October KPBS debate between the top four candidates, his performance was much of the same. In a U-T San Diego Q-and-A, he gave slightly more in-depth answers regarding his main campaign points of street repair and police department recruitment and retention. However, he still gave little-to-no specific information on job growth or any other issues affecting San Diego's students.
I know this shouldn't surprise me. You're probably thinking "That's politics, what did you expect?" To that, I would have to say touché, random reader, shame on me for having a little faith in local government. Maybe I was just spoiled with this whole idea that my local representatives should portray themselves clearly and completely. You know, like someone who has released Five-Point Transparency First Plan promising political openness if elected. Oh right, that was Faulconer. It's no wonder I was a little disappointed with my inability to find anything of substance on the man.
The most I know about Faulconer's knowledge of college life and issues is from his recently released college transcript. This was done as part of the "transparency" mentioned before. That would all be well and great, if anyone cared. We get it Faulconer; you're proving a point, just not in the right way. What I want to know is what he is going to do to make sure there are job opportunities for my graduating class. I want to know what he's going to do to make San Diego a place where I want to stay and work after I graduate.
I'm starting to believe that the reason Faulconer hesitates with giving hard opinions is that he has none. According to the Voice of San Diego, Faulconer switched his views on same-sex marriage and sewage recycling only after former mayor Jerry Sanders did. In the same article, Assemblywoman Lorena Gonzalez claims Sanders even made fun of Faulconer for trying to be his sidekick while he was in office.
His current campaign shows no signs of change. In his first TV ad, the face of Sanders fills the screen with his endorsement, and Faulconer appears briefly at the end.
Faulconer is nothing special. He is a typical Republican running on typical platforms to hopefully become the typical elected official who does nothing innovative for the city. Unfortunately, as he's the only serious conservative contender (in the officially non-partisan election) that may just be enough to get him elected. He is currently leading in the polls the U-T San Diego keeps publicizing, and the time other candidates have to gain public support is dwindling. San Diego is a unique and powerful city with great potential. Our mayor should reflect that potential, and Faulconer doesn't.
Monica Linzmeier, Photo Editor