Grounds manager keeps it green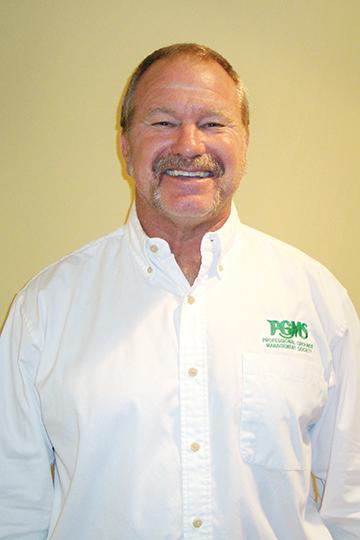 According to the official website of the Professional Grounds Management Society, the purpose of the organization is to bring grounds managers from all around the country together in order to "promote the dissemination of educational materials and reliable information pertinent to the execution of grounds management functions, and to assist in attaining and maintaining a high standard of business ethics."  One of San Diego State's own, lead groundsworker Ron Hostick, has recently become the 151st recipient of Certified Grounds Manager status by the PGMS.
Hostick graduated from Oklahoma State University in 1984 with a degree in horticulture.  He experienced the field of groundskeeping while accompanying his father, an avid golfer, to the golf course as a child.  Though Hostick loved golf, he decided his skills were not of the caliber to pursue a career in the sport, so at the young age of 13 he became involved in the maintenance aspect of the field as a result. His father was the reason he decided to further his education.
"He told me an education is the only thing that no one can ever take away from you and he was very much right about that," Hostick said.
After earning his degree, Hostick moved to Palm Springs and continued his work in the golf course business.  He later came to San Diego and began working at SDSU 13 years ago.
Hostick is involved in multiple professional grounds management organizations, including the PGMS as the South West Regional Director, the Sports Turf Managers Association as a prior college and university representative on the board of directors, and the Association of Physical Plant Administrators.  As a result of his most recent honor, Hostick is one of five people in the U.S. to hold both the titles of Certified Sports Field Manager from the STMA and Certified Grounds Manager from the PGMS.
In order to achieve this new status, Hostick had to meet certain criteria of education and experience in addition to undergoing an extensive two-part examination process.  The first part consisted of a closed-book exam administered by a proctor.  The next part was an open-book section that candidates had as long as one year to complete.
Hostick described this section as the most difficult part of the certification process.  He was required to put together an extensive PowerPoint presentation about a 15 acre plot of land on the SDSU campus that included an in-depth report about how the area is maintained in terms of equipment, employees and funds, as well as a detailed description of the area itself.  After submitting his presentation to the certification committee, Hostick was selected to receive the certification.
Hostick's supervisor, John Rodriguez, assistant director in charge of buildings, trades, grounds and landscaping at SDSU, is very fond of Hostick.
"He's not afraid to take on any task that's laid out in front of him," Rodriguez said. "He's always a go-getter.  He wants to learn and make things better.  And that's hard to find in people nowadays."  He went on to say how fortunate the university is to have an employee with such rare, honorable attributes.
SDSU employee of five years Bob Humphus, Hostick's recently appointed co-Lead Groundsworker, said he appreciates the pride Hostick takes in his work and his great knowledge in the field.
"He's easy to work with. You can ask him anything and he can usually come up with an answer," Humphus said.
Hostick's favorite part of his job is seeing the finished products of his work.
"I just really enjoy making things beautiful," Hostick said. "(It takes) a lot of different things over a long period of time to get something to really look great, and it's very satisfying when you reach that point where you see that culmination of all your effort."
In the future, Hostick hopes to become more involved in management and focus a greater portion of his time on being a facilitator for those who are working toward reaching their goals.
"It's what you share and leave behind that makes your life worthwhile," he said.
Photo courtesy of Ron Hostick.