Aztec football deserves an investment too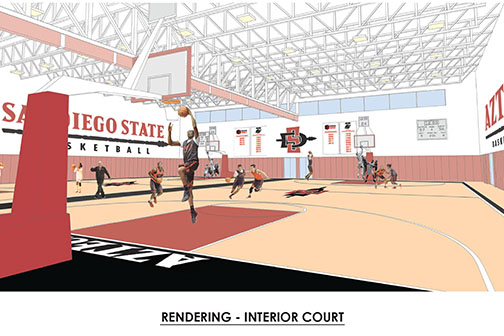 High school basketball players from around the nation now have one more reason to commit to San Diego State: $14.5 million, 23,500-square-foot new facility.
This is the second time in the last 20 years that plans for a new building geared toward the basketball teams have been announced. Building on the "practice makes perfect" mentality, SDSU athletics is planning on constructing a new practice facility.
The new facility, which will include two full-length courts, eight baskets, film rooms, team lounges, locker rooms and training rooms, is scheduled for completion before Fall 2015, according to a statement released by Goaztecs.com.
Many students are excited about the facility, boasting what potential SDSU now has at becoming a nationally recognized powerhouse in NCAA basketball. Many other students, myself included, were left wondering what this meant for Aztec football as the team continues to play at an antiquated Qualcomm Stadium.
The statement that the basketball programs have done enough to merit the new building, something that often resonates throughout Montezuma Mesa, is almost without flaw. Yet, by that logic, Aztec football has barely done enough to merit new footballs. This sort of reasoning doesn't do football justice.
The basketball teams did not earn Viejas Arena, unlike the new practice facility. In the 10 years prior to the opening of Cox Arena, the men's basketball team only had one season with a winning record at 15-14. The arena was given to the team as an investment. A new football stadium could go a long way as an investment in Aztec football, as well.
Here's where the facts come into play:
Since Cox Arena, known as Viejas Arena, opened in 1997, men's basketball has made it into the NCAA Tournament six times. In the 27 years before opening Viejas, SDSU only made it to the Big Dance three times, losing in the first round each year.
SDSU also currently has the No. 14 recruiting class for 2014, signing three of the top 100 players in the nation, according to ESPN. The new facility played a big role in convincing the players, men's basketball head coach Steve Fisher said.
[quote]"We talked about that with these kids," Fisher said at a press conference on Wednesday. "We had the drawing and showed them where it's going to be. We said, 'This will be available when you finish your freshman year.' It helps. This is not a luxury; this is what (schools) have now as part of their athletic programs. And it will be terrific for San Diego State."[/quote]
Women's basketball head coach Stacie Terry has been around several other basketball programs around the country. The plans for the new SDSU facility are different, she said.
[quote]"I've been at other universities that have had practice facilities and this is going to be far and beyond better than what I've seen," Terry said at a press conference on Tuesday. "To stay competitive in recruiting, we need something like this because it's a big selling point at other universities and now we'll be able to sell the same thing."[/quote]
The football team, on the other hand, struggles to recruit marquee talent year after year. It isn't even ranked within ESPN's top-40 recruiting class rankings. In fact, SDSU has only ranked as high as No. 48 since 2002, averaging approximately a No. 75 ranking in those 11 years, according to Yahoo Sports.
Offering the football team a new stadium, or a state-of-the-art training facility, could give Aztec football, a program on the cusp of national recognition for several years, the opportunity to break one of the lasting barriers separating it from other successful football programs around the nation.
Football is king in the U.S. SDSU needs to figure out how to offer its ruler a viable option to reign supreme. Until then, SDSU football, its recruiting process and the on-the-field product will remain tethered as it watches basketball ascend into greatness.
Photo courtesy of Goaztecs.com