Open Air Theatre gets new naming partner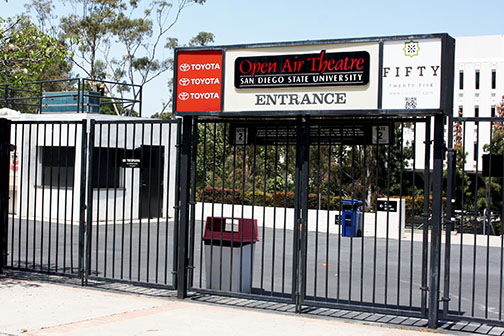 A new name and renovation plans for San Diego State's Open Air Theatre were revealed on Nov. 18 during a media event in the OAT.
The theatre was renamed Cal Coast Credit Union Open Air Amphitheater, marking the OAT's first sponsor partnership. Along with the new name, plans to expand the concourse and renovate the roof, restrooms and seating were announced. The 10-year naming rights agreement, brokered by Premier Partnerships, will officially go into effect Jan. 1, 2014
"We're very pleased that California Coast Credit Union has decided to partner with us," SDSU's Vice President of Business and Financial Affairs Tom McCarron said. "The credit union has a long legacy of serving the educational community and was founded by local teachers, so we are excited to partner with them to help serve the financial needs of our students, faculty and staff and to add to the success of the Open Air Theatre into the future."
The San Diego-based credit union will also be opening a branch in the new Aztec Student Union that will provide financial literacy programs for students.
"The Open Air Theatre has a fascinating history in San Diego and we are very proud and excited to partner with SDSU and the Associated Students to contribute to its future success while helping the students, faculty and staff achieve their financial goals," Marla Shepard, California Coast's president and CEO said. "As we begin to celebrate our 85thyear of service, partnering with the university reflects our commitment and gratitude to the educational community and to San Diego."