Border band celebrates 10th anniversary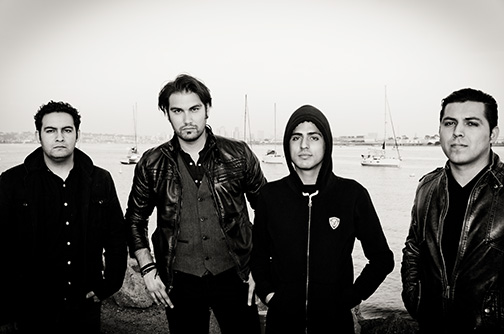 Radios Silent calls itself a "border band," proudly playing the music scenes of San Diego and Tijuana. The rock band began in 2003 and it its debut album, "Borderless," was released last year. For the occasion of its 10th anniversary as a band, Radios Silent is performing a celebratory show this Saturday at the Kensington Club in San Diego. I spoke to singer Victor Santana about the band's music and history.
The Aztec: What was the musical direction of the band in the beginning? How has it changed?
Victor Santana: When we started in 2003, it was more like a cover band. "How do we get people into our show? Let's play a song they know." So we played music from a lot of people we liked: Red Hot Chili Peppers, Pearl Jam and Stone Temple Pilots. Then, what a musician goes through: You meet a girl, and then you write a song for her. That's what happened. I met a girl, wrote her a song and played it live. People liked it. Ever since then, we were writing, writing, writing. The originals started to outweigh the covers until all of a sudden we were no longer a cover band and we were playing original music.
TA: Would you say Spanish rock music is more emotionally driven?
VS: A lot of it is emotionally driven. The power ballad in Mexico is so popular. Why? Because everybody can relate to it. The power ballad in the U.S. and the world is powerful, but down there, there's so much emotion. I think it also has to do with the language. The way you speak opposed to the way you sing it, it's a lot more emotion. That's what draws a lot of people. Whether you speak the language or not, you hear the melody and you hear the emotion of the person performing.
TA: How do you like the Tijuana music scene?
VS: The Tijuana music scene is doing a lot better now. It was dying a little bit ago. It's coming back together. It has a lot of music festivals down there. We're bringing artists from the U.S. to Tijuana. It's hard to convince them to go down there; once we do, they have a good time. We recently brought Clive Farrington from the band When in Rome for a couple of shows. It was a great thing for the scene that's trying to do all of these music festivals. Ultimately, it's going to go back to how it was in the '80s and '90s, just a big melting pot for musicians.
TA: How old are some of the songs from your album, "Borderless?"
VS: The oldest song in the album is called "The Screaming Silence." It's a song I wrote for a friend who lost his ex-girlfriend to a suicide. This friend, Tony, was a founding member of the band. We wrote this sad song but people liked it. It's got a catchy melody and nice groove to it. Everything else is from 2008 to the present.
TA: Do you prefer to write lyrics in English or Spanish?
VS: The writing process for me is, is it inspired by English or Spanish? A few songs we have in Spanish; they just sound better in Spanish. We've tried to translate some of them, and it doesn't come across the same way. If it doesn't come across, you lose so much emotion. It's a great way to show our roots and keep it real.
TA: Are you planning to do anything special for your 10th anniversary show?
VS: We are playing a full 90-minute set, which we haven't done in a long time. We played the first 10th anniversary show in Tijuana and it was great. We're going to throw in some of the covers that we grew up playing along with the originals. We are going to have special guest Clive Farrington from When in Rome performing with us, playing the hit single, "The Promise," which was featured in "Napoleon Dynamite." It's going to be a great show. We're just going to make it a fun concert/party. We're going to cover everything you can imagine of what made us who we are today.
Also read: Chvrches shoots high at the house of blues
Photo courtesy of Tim Fears