Chvrches impresses at sold out show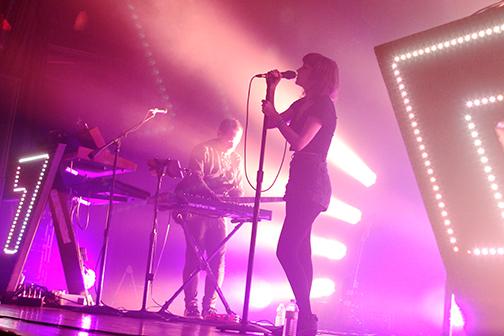 In a time when the Internet is a huge place to experience new music, it's refreshing to watch a talented band put on a great live show. Synth-pop trio Chvrches is one of those talented bands that are as impressive live as it is on the radio. Last Tuesday night, Chvrches performed a sold-out show at the House of Blues for its tour promoting the band's debut album, "The Bones of What You Believe."
Chvrches entered the stage to the electronic beat of "We Sink." The three members then locked into their positions: Iain Cook, on the left with keyboards and a guitar; Martin Doherty, on the right playing the drums; and Lauren Mayberry, center for vocals. A huge light installation of the trio's asterisk-shaped logo stood behind them and shined dazzling lights in sync to the music. The stage setup alone was worth the admission, especially during the song, "Night Sky," when the lights mimicked stars in a pitch-black sky.
The members had a warm personality up on stage. Mayberry kept things casual, talking about her childhood experience at the San Diego Zoo with the crowd. When it was time for her to sing, though, she switched into a professional attitude and nailed the emotions pitch perfect. In the latter half, Cook switched to the center to perform his vocals for "Under the Tide." While Mayberry hung on to the mic stand, Cook walked closer to the crowd. When the beat soared on the chorus, Cook went wild and jumped around to the beat.
The trio played a majority of songs from the band's most recent album "The Bones of What You Believe," plus the bonus track "Strong Hand" and popular B-side "Now Is Not the Time." Massive cheers came during the trio's popular singles, "Recover" and "The Mother We Share." While the epic synthesizers of Chvrches sounded better through the live sound system, its booming drums were the trio's secret weapon as it made the melodies hit even stronger. Doherty also played around with his drum machine for some songs and smoothly chopped kicks, snares and fragments of Mayberry's voice into a clean drumbeat.
It's surprising that just one year ago, Chvrches released its single "The Mother We Share" and have become an indie favorite. Now, the band is quickly gaining popularity. People often say, "Don't believe the hype." From its performance in San Diego, Chvrches proved it's a band definitely worth believing in.
Also read: Border band celebrates 10th anniversary
Photo by Ryo Miyauchi, senior staff writer