Student films shine at Campus Movie Fest 2013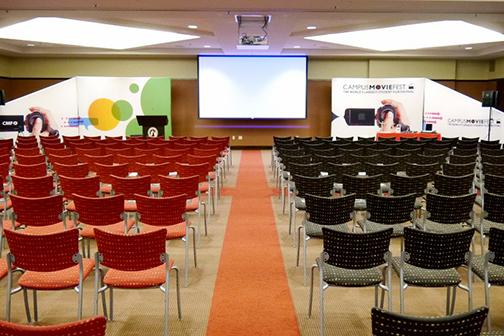 For one week, students were provided with all the tools to create their own short films. From cameras, to editing equipment, Campus MovieFest has been helping students tell their own stories since 2001. This is the fourth year CMF has come to San Diego State, and the top films this year did not disappoint. It's amazing what some groups were able to create, all in one week.
The top 16 films were screened at the Fowler Family Ballroom in the Parma Payne Goodall Alumni Center last Saturday night. Accompanied by its red carpet, the evening was free for students, and put together by the Aztec Student Union Board. With plenty of snacks in hand, students were ready to see what the best filmmakers at SDSU had to offer.
Taking home the big prize for best picture this year was "Palindrome," directed by Nestor Pecache and the Rogue Identity team. An unexpected and poignant story about true love, Pecache was "very surprised the committee even accepted his short." Not only did they accept it, but they loved it, and he has the award to prove it. Along with their statuette, Pecache and his team also won a week-long rental package from RED Digital Cinema, and the opportunity to attend and screen their film at the 2014 Cannes Film Festival Short Film Corner, among other prizes.
Other winners for the night were "The Test" by Leland Woolley's Crew for Best comedy, and "Happy" by Pari Alexander's Crew for best drama. The winners from SDSU will advance to compete at CMF Hollywood next June, where they will compete against the best college short films in the nation.
Additional honors for the night included:
● Best Actor–David Butler in "How To Be Cool" by Cool
● Best Actress–Brittney Meredith in "Promises" by Carlo Fiorillo's Crew
● Special Award #1–GTA for Editing in "How To Be Cool" by Cool
● Special Award #2–GTA for Special Effects in "Happy" by Pari Alexander's Crew
● Special Award #3–GTA for Cinematography in "Palindrome" by Rouge Identity
Also read: 'The Book Thief" leaves you wanting more 
Photo courtesy of Campus MovieFest

About the Writer Alek Sanchez, Staff Writer
Alek is a business administration senior, with an emphasis in management information systems, but don't let his background fool you. He began writing for...