Drake and Co. turn up at SDSU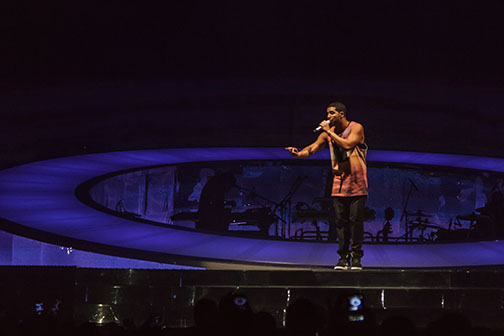 It's hard to put into words how amazing the weekend of Nov. 24 was. Drake and company came through once again to San Diego State, and put on a spectacular show. This was a can't-miss event for Aztecs this year.
Viejas Arena was packed to the brim, as Drake's "Would You Like A Tour?" featured opening act, PartyNextDoor, and supporting artists, Future and Miguel. Hailing from Canada, PartyNextDoor is an up-and-coming artist who signed to Drake's own OVO Sound record label. Fusing a touching R&B sound with electronic dance music inspired sounds, PartyNextDoor has been steadily gaining traction, and I expect big things from him in the future. Up next was Atlanta rapper, Future. He has recently been expanding his sound, adding more of an R&B style, along with his usual street hits. Future has pushed back his second album, "Honest," from its original release date because of his tour with Drake. Future did a great job of building the energy for Miguel and Drake.
As the stage was set and lights dimmed, up from under the stage arose Miguel. Known for his signature soulful sound, Miguel's profile has been growing as of late, and boy does he know how to put on a show. With his luscious lyrics, Miguel has considered his songs to be an "autopilot wingman" for a lucky night with the ladies. Rocking with a live band, Miguel's energy was palpable. Feeding off the crowd, Miguel's mixture of funk, hip-hop and classic rock was a sure hit to hype up spectators. Miguel's last album, "Kaleidoscope Dream" was a sleeper hit, but has allowed him to create a larger audience since its release.
And then it was time for the man of the hour. Once Drake stepped onto the stage, the energy reached a whole new level. The music was thumping and the party seemed to never stop. Drake played tunes from throughout his career. Starting out with songs from his new album, "Nothing Was the Same," to hits off of his official mixtape, "So Far Gone," the crowd loved everything Drake had to offer. During his performance, Drake brought out Future, and the lovely singer Jhene Aiko to sing a couple of songs with him on stage. One lucky fan even got the chance to be on stage with Drake, as he serenaded her to the tune of one of his new singles, "Hold On, We're Going Home." Mixing his signature style of hype bangers, and deep R&B lyrics, Drake's performance was able to hit all kinds of right notes. One of the more personal moments was when he ascended into an elevated ring above the center crowd. Going from one end to the other, Drake called out each and every special fan that caught his eye. It was a nice break of pace, and reassuring to fans that even with all the fame our favorite artists get, they're still real people. San Diego loves Drake, and Drake loves San Diego. We can't wait for your next performance, Drake; Aztecs will be waiting.
Photos by Kevin Serrano, staff photographer
Also read: Student films shine at Campus Movie Fest 2013