Students raise money in style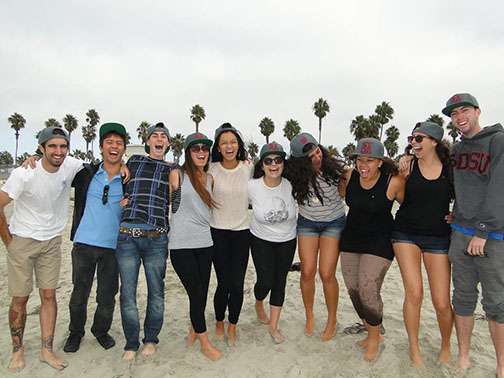 Not long ago, a group of 30 pledges from the coed business fraternity Alpha Kappa Psi at San Diego State were given the task of creating a mock business plan, and to present the plan to the active members. After four tiring days and sleepless nights consuming countless cups of coffee, the five-year mock business plan was created, and Snapbacks that Give Back was born.
STGB is a business created to help pledge Shay'Lenn Hayes, an accounting freshman at SDSU. Hayes was diagnosed with a brain tumor at the age of 16, requiring constant medication to prevent further growth. If Hayes doesn't take the medication, she risks blindness at any given moment. The medication Hayes needs is extremely pricey and so the goal of STGB is to donate 20 percent of its profits to Hayes' medical expenses.
One of STGB's creators is journalism and media studies junior Briona Plata.
"Everything has just been a big blur," Plata said. "One day we were all assigned this project, and four days later everything just started to blow up. Out of nowhere the Facebook page got 700 likes, and the Instagram got 1,000 followers. It's unbelievable."
"None of us had any intention of making anything out of our idea, it was just a mock business plan for our fraternity. But no one could think of a better idea than a plan that helps Shay'Lenn. We all care about her and want her to receive the best help she can."
The symbol on the snapback itself was designed by Hayes, and there are plans to make the snapback completely customizable with different colors representing different types of cancer, or with embroideries such as quotes, names or anything else the buyer wants to include. There are even thoughts to making decals, tank tops and T-shirts.
"We decided to create mocks of about 30 hats, some customized by others in the group, just for presentation purposes so everyone could see the finished product of our plan," Plata said. "But when we wore the snapbacks around campus people would ask about them."
"I was receiving emails from people in places around the world like Korea and Germany wanting to buy our hats and support our cause. One of the most exciting things is an investor actually took interest in our idea," Plata said. "It's crazy to think that a group of 18 to 25 year olds could create this in such a short amount of time, and have a tangible item in our hands."
There are plans to sell the hats to stores such as Pac Sun within the next year or so to help spread awareness. Then, once Hayes is financially secure with her medication, there are plans to donate the 20 percent to another cancer organization.
"The hats we still have can be bought, but when we're out of those that's all until a more cost effective way to produce the hats can be found." Plata said. "We need to find a cheaper way to produce them so we can give more money back to Shay'Lenn," Plata said.
"It's such an amazing feeling seeing so many people care about Shay'Lenn, so many people that don't even know her and still care about her cause," Plata said. "I think that's the most amazing part about this entire experience."
Photo courtesy of Snapbacks that Give Back.