Hockey Club Rolls LMU 10-1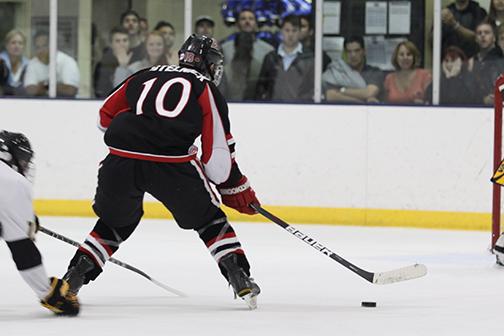 The San Diego State Hockey Club's impressive 10-1 victory against Loyola Marymount University on Nov. 23 featured an array of offensive production and defensive prowess. A bounce-back game was exactly what the doctor ordered following the Aztecs' offensive struggles the week before against Northern Arizona University.
[quote]"We had a very competitive practice and tried to get back to the basics," head coach Chris Migliore said. "It was a good win against a team that usually gives us tough games. The kids were prepared and executed the game plan."[/quote]
Senior forward Eric Stelnick took puck distribution into his own hands, dishing out three assists on the night. A goal of his own gave the team captain a game-high four points. Senior forward Alex Cambas and junior forward Conor Pope each added a goal and two assists to the stat sheet. The Aztec bench produced from top to bottom with nine different scorers and 11 different skaters registering points.
The SDSU defense was sharp and physical, a welcome change to its recent streak of sloppy and inefficient play. In its last six games before facing LMU, the Aztecs allowed an average of four goals per game. Amazingly, the team still managed to win four of those games.
The stingy defense held LMU to just 17 shots on goal, one of which got past junior goalie Filip Curkovic. While the Aztec defense tamed the Lions offensive production, SDSU only needed 19 shots of its own to score 10 goals in 60 minutes. Only one Aztec goal came on a power play, an area where SDSU needs improvement down the stretch.
The next home game will be this Friday, Dec. 6 against California State University Fullerton. Students can enjoy the game free of charge when they show their Red ID at the door.
Photo by Wesley Beights, Staff Photographer