Restaurant brings Irish culture to San Diego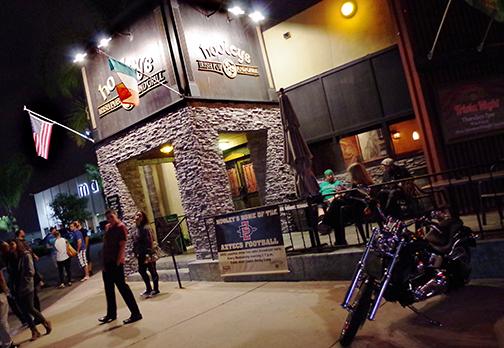 A Hindu festival revived by Irish soldiers—this is the tale behind the name of Hooleys Irish Pub & Grill, an authentic piece of the old country found in Grossmont Center.
Entering the pub, one is enveloped in dark wood and the soft glow of candlelight. A massive model ship greets guests at the doorway, and Irish decor is present throughout the restaurant, dartboards, cricket bats and ropes hang from the faux stone walls. Open rafters reveal staged wooden barrels, ancient Irish bottles and small wagons on alcoves above seating areas.
Hooleys' food, in tune with the decor, provides enjoyment and excitement. The Irish-influenced entrees taste delicious, especially the award-winning corned beef tacos. The salty corned beef, traditional in Ireland, tastes right at home in a tortilla, and surprisingly enough, just as good in Hooleys' corned beef mac 'n' cheese. Boxtys, a traditional Irish dish, are prepared similar to burritos; Hooleys even offers a California Boxty. The white wine chicken boxty is another variety offering sweet traces of caramelized onion. For meat seekers, Hooleys offers savory and juicy pub steaks and pretty darn good burgers.
Now to the sweet stuff. For dessert, the true sweet tooth will choose one of Hooley's specials, such as the cinnamon sweet tater tots, explosions of rich cinnamon captured in crunchy churro bites in which creamy, cool ice cream dipping accentuates this flavor blast. College students are bound to get excited about Hooleys' Guinness beer floats, combining beer goodness with a scoop of ice cream. Those seeking actual beer should take a seat in the bar (fake kegs line the walls) and enjoy drinks such as the Irish tea, Captain Craiger and Hooleys Honey Badger.
Hooleys is not all boxtys and Guinness. The restaurant also sports a full-stage performance area where local artists spout everything from hip-hop to electronica to classic rock. As if Hooleys did not have enough features to entice San Diego State students, the pub is the self-proclaimed "Home of the Aztecs." If you're in the mood to watch a game, turn to one of the many screens, or to one of SDSU's Aztec football coaches, who play live radio broadcasts at Hooleys at 7 p.m Wednesdays. You can enjoy delicious food and meet head coach Rocky Long simultaneously.
Hooleys' energetic and authentic atmosphere, in conjunction with great food and live entertainment, make leaving difficult. For a moment, amid the voices of raucous drinkers and the occasional roar of "Happy Birthday," one can almost hear old Irish drinking songs spilling out into the night.
Photos by Jordan Owen.