A gift in the vibrations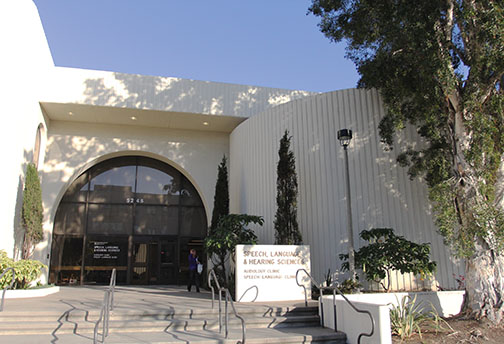 In a heartfelt letter to San Diego State's Audiology and Speech-Language Clinic, a father told the story of his son's hearing problems. The boy lives on the same coast we do, but he couldn't hear the waves for most of his life. For years the boy rested his toes in the sand, soaked his ankles
in tide pools and swam out to meet the swells in stark silence. He did not hear the border stops or the monotonous two- hour traffic separating Tijuana, where he lived in near poverty, and Los Angeles, where he learned to speak daily.
Desperate to end his son's disability and alleviate his family's economic struggle, the boy's father sought help from SDSU's Audiology and Speech Language Clinic. The clinic ended the boy's disability. Now he hears waves.
In a fundraising frenzy, the clinic accumulated enough money to completely pay for the deaf boy's hearing aid fitting. The clinic also collaborated with the Starkey Hearing Foundation, a hearing aid manufacturer that donated the boy's auditory amplifiers, which
on average cost $2,500. Hearing aid maintenance is one of the clinic's primary services.
"It makes a life-changing difference," clinic audiologist and SDSU alumna Carol Branch said.
Branch recalls another patient who experienced the wonder of hearing aid adjustment. After conquering cancer, the patient lost her hearing as a result of chemotherapy. She couldn't hear her grandkids anymore, even with hearing aids. The clinic reprogrammed the grandmother's hearing aids and fully restored her hearing.
"Not all clinics have the time to be current, but we do," Branch said.
SDSU's Audiology Clinic, now nearly 40 years old, is cleaved into two sections: one section specific to audiology and the other to speech language and pathology. In addition to chronic patients, the clinic is open to students and the general public.
"You can be one month or 98 years old; anyone can come," Branch said.
The clinic welcomes the financially challenged as well. To resolve the issue of a patient's lack of funds, the clinic raises the money necessary, relying on partnerships with charitable organizations such as the Starkey Foundation and the San Diego Lion's Club.
Aztec auditory quality does not end with patient care. The clinic's staff of 13 is almost entirely composed of graduate students. SDSU's doctoral program in audiology is highly competitive in California, 10 students will graduate from the program in 2017 and enter a field in which they're virtually the only professionals. Some of the students traveled a peculiar path to their exclusive career, led to explore the ear by a passion for music.
"I've always been fascinated with music," student clinician Anish Thakkar said. "I've had stints with several instruments over the years. I think music brought me into the realm of hearing science because (audiology) allowed me to combine passion in a meaningful way."
In Thakkar's opinion, hearing is sacred.
"Hearing is a gift. Not a privilege, but a right. I think my profession is rewarding because it allows me to share with others what inspires me to help them hear what I hear," Thakkar said.
He's experienced a wide spectrum of hearing-impaired patients, and plenty who could have avoided hearing problems with the proper discipline. While shadowing an audiologist in North Carolina, Thakkar met gun owners who, despite seldom firing their weapons, suffered from hearing loss.
"Even one gunshot can be very damaging," Thakkar said.
Excessive noise damages the tiny hair- like nerve cells within the ear's cochlea essential to audition, and repairing this damage is often difficult or impossible.
Thakkar's experience with hearing loss is not limited to guns. Recently, an SDSU student sought relief from the clinic after attending a typical college event.
"She'd heard ringing in her ears for a week after attending a concert," said Thakkar, who though deeply passionate about music, wears earplugs to every concert he attends.
Thakkar encourages students, suffering from week-long phantom ringing or not, to visit the clinic for an initial audiological evaluation. The clinic does not accept medical insurance, but the cost of an evaluation is discounted for students—Aztecs pay $25 for the quick and beneficial checkup.
SDSU's Audiology Clinic will continue its plea for the purity of sound. The average person may believe human speech and ocean waves are mundane, but the hearing-impaired community defends the sanctity of these vibrations with deafening passion. To the boy, hearing is not biology, it's magic.
Photo by Monica Linzmeier.