Most Anticipated
by Alek Sanchez
When thinking about 2014, the first game that instantly comes to mind is "Destiny." Hailing from Bungie Studios, a company famous for a little series called "Halo," "Destiny" is Bungie's first release for next generation consoles. Set in a futuristic postapocalyptic Earth, players are thrown into a world full of chaos and mystery as they defend the last safe city on Earth. One of the biggest features noted from "Destiny's" E3 reveal was the heavy customization and RPG-like leveling and abilities. "Destiny" combines the frantic action of a first-person shooter, while allowing players to modify and tailor their own special characters, creating a unique experience for each player. Incorporating large-scale multiplayer action, such as drop-in/drop out co-op and live community events where you and 15 other players must work together to take on an objective, "Destiny" has Aztec Gaming pumped for the next generation of console games. Given its extensive and famed track record, we have plenty of faith in Bungie to deliver a top-notch game. Whether you're waiting patiently or impatiently, "Destiny" can't come any sooner.
Best Multiplayer
by Hollyanne Setola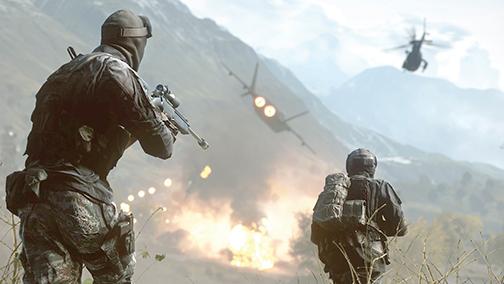 There have been many multiplayers released this year, but two of the biggest were "Call of Duty: Ghosts" and "Battlefield 4." Both franchises are constantly compared from the graphics to the realism, but "Call of Duty: Ghosts" doesn't even come close to the stunning graphics and intense gameplay of "Battlefield 4," especially for PC gamers. In terms of graphics, "Battlefield 4" makes "Call of Duty: Ghosts" look as if it was created by indie game developers. The vivid imagery of the military battlefields leaves you feeling as though you're truly a part of something much more than a video game. From driving tanks, jeeps and boats to flying helicopters, planes and jets, "Battlefield 4" is much more than a typical "run-and-gun" first-person shooter.  Although, there may be some issues in terms of server connection, latency and various bugs, developer Electronic Arts promises to fix these issues before releasing future expansions. "Battlefield 4" is a game that can't be missed, and is available not only for PC, but also for the PlayStation 3, PlayStation 4, Xbox 360 and Xbox One. Between the stunning visuals and endless options for gameplay, "Battlefield 4" is going to continue to be the multiplayer to beat.
Best Story
by Jordan Pollock

This year has brought us some of the greatest games of the last generation of consoles. After seven years, it's almost as if developers waited to send off the PS3 and Xbox 360 with fantastic games that will make us always remember those wonderful machines. Earlier this year, "The Last of Us," developed by Naughty Dog, introduced us to a ruined world filled with people that would do anything to survive. In this world we met Joel and Ellie, an unlikely duo that were on a trek across the once thriving U.S. "The Last of Us" truly proved that video games could have stories that can engage us in a way that might one day surpass storytelling in movies and TV. The only bad thing about "The Last of Us" was the fact it only came out for the PS3, so Xbox 360 and PC owners didn't have a chance to play it. It's okay though, there's always "BioShock Infinite."
Game of the Year 2013
by Max Saucedo
Game of the Year 2013 certainly proved to be a knockout success for the quality of games and gaming. Games such as "BioShock Infinite," "Grand Theft Auto V" and "Splinter Cell: Blacklist," to name a few, have vastly changed the way games are made and sent the final year of this video game generation on fire. A true Game of the Year combines levels of storytelling, innovation and "replayability" to craft an experience that changes the way players see a video game. With that in mind, Aztec Gaming has selected "Tomb Raider" as its 2013 Game of the Year.
The Crystal Dynamics development has been years in the making and the polish shows from the get-go. Beautifully rendered island set pieces provide a gorgeous backdrop for gaming's No. 1 leading lady, Lara Croft. A compelling story and fun and gritty gameplay combine to create an unforgettable experience. This makes the choice obvious as "Tomb Raider" brings a thrilling and beloved heroine back to the gaming world in an awe-inspiring spectacle.
Also read: Twitch.tv provides an outlet to interact with others
AGN logo by Hollyanne Setola