SDSU involved in KPBS union debate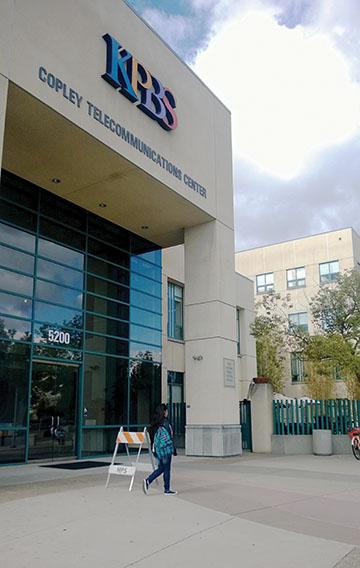 The San Diego State Research Foundation and SDSU have hired legal counsel to actively opposed unionization efforts by the KPBS staff.
Conflict at KPBS began in early September when staff members presented a petition to station manager Tom Karlo asking that they be recognized as part of the Screen Actors Guild-American Federation of Television Radio Artists union.
Station management opposed the effort and in a letter to its staff said it would work with the university and the SDSU Research Foundation to discuss options.
Management also announced it was hiring labor relations specialist Gregg Newstrand to educate the staff. Then it began holding meetings with the staff members to explain the station's position and dissuade them from unionizing.
Newstrand has worked as a consultant in labor and employee relations for more than 30 years. His last job that made the news was as a labor relations manager for the Portland, Ore. public school district in a dispute about contract negotiations with a faculty union, much to the chagrin of its members.
A public records request with the SDSU Research Foundation turned up an invoice for $70,875 for Newstrand's consulting fees through a firm called Cruz & Associates, Inc., based in Upland. Fees included Newstrand's airfare, lodging, auto and meal expenses from Oct. 13 through Nov. 24.
Working on an anonymous tip, The Aztec also requested information about Los Angeles-based lawyer Alan Brunswick, including financial transactions.
Brunswick represents management-side interests in labor, employment and entertainment law. He is listed in the "Best Lawyers" ranking by the U.S. News legal-referral publication and works for Manatt, Phelps & Phillips, LLP. The firm lists California State University as one of its clients on its website.
The SDSU Research Foundation did not provide information on Brunswick, however, it did say it withheld certain information as allowable in state law.
The SDSU Research Foundation withheld documents using a provision of the Richard Mckee Transparency Act, which exempts from disclosure records "relating to the attorney-client and attorney work product privileges," as well as "records related to (employer-employee relations) that reveal an auxiliary's deliberative processes, impressions, evaluations, opinions, recommendations, meeting minutes, research, work products, theories, or strategy…," according to an email response from SDSU Research Foundation Executive Affairs Special Assistant Renee Daniels.
The Mckee Act was intended to open university auxiliaries, such as the SDSU Research Foundation, to public records requests. Before Gov. Jerry Brown signed the legislation, auxiliaries had fallen into a legal gray area as quasi-public organizations.
SDSU Research Foundation Executive Director Bob Wolfson did not comment on whether it had retained Brunswick, citing provisions in the Mckee Act.
However, spokespersons for SDSU and KPBS said the SDSU Research Foundation and the university had retained Brunswick.
Brunswick confirmed he had been working with the SDSU Research Foundation. He said that aside from an initial meeting, his services had mostly been conducted by phone, but could not go into further detail because of attorney-client privilege.
KPBS employees voted on Nov. 18 by a slim margin, 28-22, in favor of unionizing.
The SDSU Research Foundation is a nonprofit organization and auxiliary of the university that channels federal grant dollars as well as private donations to the station, in addition to SDSU organizations.
The university also provides support to KPBS in the form of management and other support services. Last year, the total monetary amount of such services from the university was more than $1.6 million.
SDSU is heavily unionized. Unions represented on campus include the California Faculty Association, California State Employees Association, and SDSU Retirement Association.
Photo by Jimmy Thibault, staff photographer