Time to achieve success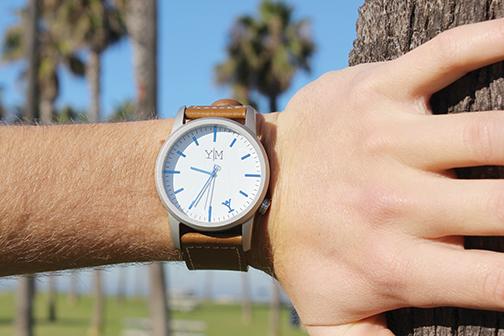 Do you think your 9-to-5 job restricts you from living life the way you want to? Everyone has the same 24 hours in the day, but what you do in that time is completely up to you. Even if you work 9-to-5, the time you have afterward is open to endless possibilities to follow your dreams.
It's Your Time.
That's the slogan of Yes Man Watches, an upcoming wristwatch company started by University of San Diego finance sophomore Nathan Resnick.
Yes Man Watches are innovative, stylish and inspiring. The watch has a holeless buckle that doubles sizing options creating the perfect fit. Instead of holes, a row of notches is sewn into the back of the leather band where the buckle hooks. This holeless design eliminates damage to the leather strap, allowing the watch to look new with every wear. The Yes Man logo is positioned at 5 p.m., symbolizing when work is done you're free to live your life as you please and follow your dreams.
This is the mindset that Resnick had when creating Yes Man Watches. During his freshman year, he got the idea of applying belts to watch straps. This past summer, Resnick worked a 9-5 job that was constricting and unsatisfying. He wanted to consider his use of time and inspire others to do so as well. So after his shift ended at 5 p.m. each day, he pursued this dream of starting Yes Man Watches.
"I've always been entrepreneurial minded," Resnick said. "It's my passion."
Balancing college and a business is no easy task, but Resnick allocates his time wisely by setting short- and long-term goals.
"Applying my coursework from classes like managerial accounting has been very helpful," Resnick said. "It is amazing to be able to apply what I've learned in class toward my start-up."
Resnick would stay up until 3 a.m. consulting with people in different Time Zones. He was based in Washington, D.C., had a friend helping him design logos in San Diego, worked with an engineer in Budapest to make the computer-aided designs and consulted with manufacturers in China. Resnick lived in China previously as a foreign exchange student and speaks the language almost fluently. This experience and skill greatly helped him in gaining manufacturers to support Yes Man Watches.
[quote]"To be successful at anything, you have to be passionate, have perseverance and be persistent," Resnick said.[/quote]
The company launched its online presence in August and it spread like wildfire. Within a few months, Yes Man Watches was featured on Watchuseek.
"I am so thankful and grateful for all the support," Resnick said.
The Yes Man Watches team has spent countless hours designing their watches and preparing for production. All they need now is the funding to support its company. On Kickstarter, donors can help the team reach its goal of $15,000 in order to begin manufacturing and distributing Yes Man Watches.
Yes Man Watches strives to include more watch models, such as athletic watches, along with other accessories and apparel. Resnick hopes to see his watches sold in major retail outlets around the world in the near future. In addition to expanding his line, Resnick's continuous goal is to empower people to consider their use of time and make the most of it.
"The most valuable asset in our lives is time," Resnick said. "The most powerful ability we have is to take action."
Photo courtesy of Yes Man Watches.