How to turn your resolutions into realities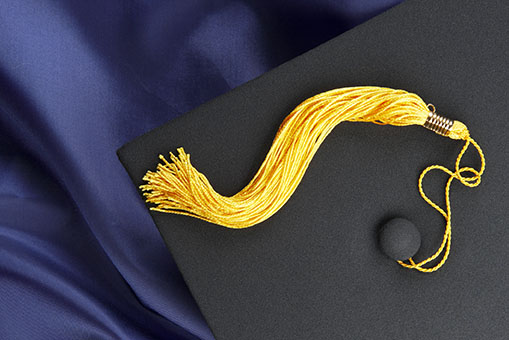 So now what? You've made the resolutions, mentally dedicated yourself to change and decided that this is the semester you will make things happen. Maybe it's getting more involved on campus; finding that perfect internship; finally stepping up to the podium, grabbing your diploma and saying goodbye to your fellow Aztecs and looking for the new adventures to come. Here at The Aztec we want to support you in all your endeavors, so here are a few helpful hints on how to get to where you want to be.
How to apply for graduation:
Step 1: Are you a senior?
If you answered "yes" to this, you're already on the right path. San Diego State Students need at least 120 credits to graduate as well as fulfilling all major and general education requirements. If you will be finishing those requirements this semester, you are eligible for graduation.
Step 2: Apply for graduation
After you log on to your WebPortal there will be a tab on the left-hand side marked "Apply to Graduate." Click this. Then follow the step-by-step instructions and please, make sure your name is spelled correctly. Students graduating in either May or August will be eligible to walk in the Spring Commencement ceremony.
Step 3: Pay your fees
Your student account must be completely paid off before your graduation application is accepted. This includes tuition, library fees and a $55 nonrefundable filing fee for your application.
Step 4: Pass your classes
This may seem like the simplest step, but it also may be the most important. Next time senioritis kicks in and the beach or happy hour seem much more appealing than class; remember the finish line, remember your friends and family who can't wait to watch you walk across the stage and get your diploma. Think of your mother's devastated face if you never make that dream come true.
How to show your school spirit:
Step 1: Check out the sports
SDSU has plenty of amazing athletic teams to show support for. Specifically, men's and women's basketball games, which are always hot events to attend. Tickets for both team's games are available at the Viejas Arena Box Office.
Step 2: Get your tickets
Getting tickets for the men's basketball games is a competitive process. Students can receive free tickets with their Red IDs, but only as long as they last­–and that's not long. Some students get in line hours before the office opens. The next time tickets will be released for the men's games is at 10 a.m. on Jan. 27 for the Colorado State University game. My advice: Bring something to entertain yourself–it'll be a while.
Step 3: Go to the game
Whether you're the type to sit in the back and proudly look onto your fellow Aztecs, or if you're in the the first row of the student section screaming your support and waiting your moment to crowd surf over the stands; it's your presence that really matters and being a part of your school community. Also, check out the SDSU bookstore to grab some red and black swag for the game.
Step 4: Be a good sport
You're there to support your school, not tear down the opponent. Let's remember, it's just a game and although we love to see our Aztec's win, we shouldn't forget to behave like the classy and respectful adults we want to portray ourselves as.
How to get an internship:
Step 1: Breathe
Applying for internships can feel like the first fateful step of your career and that any mistake will lead to a lifetime of dissatisfaction, unemployment and eventual ruin. Yes, internships are important, but you have lots of time and opportunities to find the right path for you.
Step 2: Set realistic expectations
Some internships are looking for students interested in getting some part-time experience. Some require three past internships, work samples and a full-time commitment. It's all about deciding what is best for you and what you are qualified for, then go from there.
Step 3: Meet with an internship coordinator
Most departments at SDSU have a specific person whose job it is to help you find internships. He or she is an expert in everything from resumes and cover letters to what to wear to an interview and how to act. Use your resources–­they're there to help you.
Step 4: Apply, apply, apply!
Obviously, the more places you apply the more likely you are to hear something back. It never hurts to put yourself out there, even if all you receive in return is a rejection letter or an offer to try again next year. Keep trying, eventually your time will come.
How to go Greek:
Step 1:  Consider your options
If joining a fraternity or sorority has been a part of your college dream since you were a kid, then you came to the right university. SDSU has several chapters to choose from. To get things started, head to the "Fraternity and Sorority Life" section of the Student Life and Leadership website.
Step 2: Make sure you're eligible
To take part in the recruitment process, potential new members must be currently enrolled in classes at SDSU and may not be on academic or disciplinary probation.
Step 3: Sign up for recruitment
Potential new members must register for recruitment online and attend one of two information sessions to be considered eligible for spring recruitment. These sessions will be held from 5-6 p.m. on Jan. 27 and from 1-2 p.m. on Jan. 28 at the Aztec Student Union.
Step 4: Keep an open mind
The recruitment process is for you to find the best fit. Go into the process open to finding out who you get along with; and if Greek life is even a path you want to go down. Panhellenic sororities and Interfraternity Council fraternities will both give out bids to new members on Feb. 10
Important Dates
Jan. 31: Deadline for faculty to drop students from classes
Feb. 4: Deadline to apply for graduation
Feb. 4: Deadline to add/drop a class or change grading type
March 31-April 1: Spring break
May 8: Last day of classes
May 16-18: Commencement ceremonies