A.S. vacate bungalows, move to ASU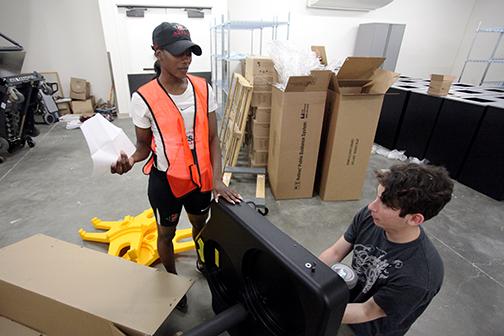 A cluster of vacant bungalows sits just west of the music building in the late afternoon sun. Only two hours prior, the Aztec Mesa facility was bustling with life as staff prepared for its long-awaited move to new offices in the Aztec Student Union. Now, a pile of boxes in the corner of an empty room is the only evidence that this complex was once the makeshift headquarters for San Diego State's Associated Students.
For the past two and a half years, these buildings served as the temporary heart of A.S.'s operations on campus, but now the fate of these empty bungalows is uncertain.
Administrators haven't decided yet what to use the facilities for during this upcoming semester, a supervising custodian with the SDSU Facilities Services, Antonio Garcia, said. The bungalows have been considered for use as classrooms but no move to outfit them as such has been made by the SDSU Facilities Services, Garcia said.
"You know in my opinion, they'll probably just bulldoze the whole thing like they are doing up at those bungalows on College (Avenue) and maybe put in some shiny new building," Garcia said.
Though A.S. began moving its offices at the beginning of last week, this past Thursday marked the final day spent in Aztec Mesa.
As the staff members moved into their new offices they talked excitedly about the new facilities, but some of the staff seemed sad to leave their home of more than two years.
"I'm not saying I'm going to miss the shoddy AC (air conditioning) or the constant thumping of feet on those terrible floors, but when you stay in some place that long it feels like home," one of the Aztec Mesa staff members said to a coworker as she walked to her new office with huge folders under each arm.
The move attracted the attention of some of the small number of curious students and faculty, including communications graduate student Kevin Corcoran.
"The funny thing is I don't think most students even knew what was housed in those buildings," Corcoran said as he watched staff cart boxes across Campanile Walkway.
Photo by Monica Linzmeier, Photo Editor