SDSU recognized for improving graduation rates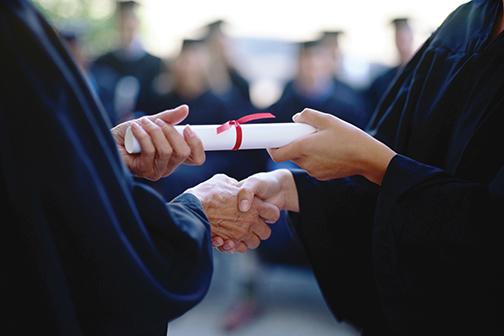 San Diego State has recently been recognized for improvements in its six-year graduation rates for minority groups in the past decade by The Education Trust, a national nonprofit group that advocates for education equality.
The Education Trust cited SDSU as an example, along with seven other colleges around the nation, in its "Learning From High-Performing and Fast-Gaining Institutions," a practice guide it distributes to American universities annually. This is the second time the group has recognized SDSU.
Within the guide, the group wrote that graduation rates for Latino students, who currently make up roughly one-third of the SDSU student body, almost doubled, jumping from 31.4 percent in 2002 to 58.8 percent in 2011. Graduation rates also increased significantly for black students at SDSU, from 28.6 percent in 2002 to 55.8 percent during this time. The average graduation rate for all students increased 72.2 percent, with about two-thirds of the student body now graduating in less than six years.
The Education Trust President Kati Haycock said the recent recession and the growing income inequality that has followed has made the issue of education more important throughout the U.S.
"Leading colleges and universities are teaching us that just letting more students in isn't enough," Haycock said. "Colleges need to assume their share of responsibility for making sure students have the supports they need to complete their degrees."
The change in graduation rates can be attributed to the large variety of programs SDSU offers to students, including Casa Azteca and the Early Start program, SDSU Media Relations Manager Beth Chee said.
"The report highlighted common elements that were present across all eight universities—deeply and publicly committed campus leadership willing to make student success a high priority and the early and ongoing use of data to identify problems and evaluate solutions," Chee said.
At an open forum in December, recently appointed Student Affairs Vice President Eric Rivera told faculty and staff that one of his main goals during his time at SDSU has been to see an increase in graduation rates. Rivera said he has always approached this problem by focusing on evaluating data. This data-based approach serves as the groundwork to all the programs he has helped create on campus, Rivera said.
"The results from the data we collect are seldom what we expect," Rivera said during the forum.
For example, the Casa Azteca program was put into place after Rivera's student affairs team found commuter students were significantly more likely to leave SDSU in the first two years than students who lived on campus.
The enrollment data also revealed that a large block of commuting students were Latinos. Casa Azteca was designed to specifically combat this loss of students by giving commuters a support community comparable to the experience of on-campus students.
"Without our data we would have never known the true root of the problem," Rivera said.
Though graduation rates at SDSU have mostly leveled out between various racial groups, Rivera said there is still work to be done.
"Despite the recent improvements, our job is far from over," Rivera said. "We can rest when we have 100 percent student retention."
SDSU also ranks No. 13 in the nation for the number of undergraduate degrees given to minorities, according to the Diverse Issues in Higher Education publication, and last October received the Higher Education Excellence in Diversity award from INSIGHT Into Diversity magazine.
Photo courtesy of Thinkstock.