Aztecs welcomed to Student Union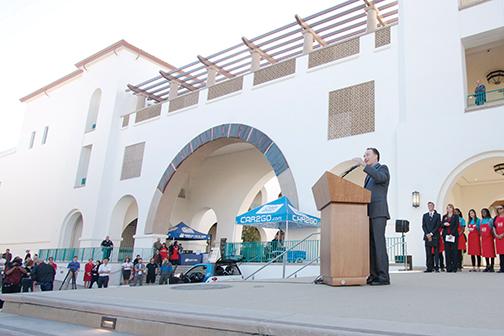 On Wednesday morning, San Diego State President Elliot Hirshman and Associated Students President Josh Morse welcomed students and faculty to the Aztec Student Union. However, many parts of the building are still under construction.
"We'd like to welcome you all to your new campus living room," Hirshman told the crowd of 200 or so gathered on the steps on the north side of the 206,000-square-foot building as the drone of power tools continued behind him.
The majority of the construction for the $104 million project was completed in time for the spring semester, but the western part of the ground floor of the union, which includes the new Aztec Market and various restaurants, is still unfinished.
Construction was delayed last year because of the discovery of several utility pipes under the building site. Originally, the building was supposed to be finished in time for the Fall 2013 semester, but the discovery of the pipes set the project back several months.
The businesses on the lower floor are expected to be open within the next month. All construction on the structure should be complete in time for the official grand opening of the building on March 7, Hirshman said.
Despite the incompleteness of the building, spirits in the crowd remained high. The crowd buzzed with excitement as Hirshman and Morse gave their welcome speeches.
Following the opening ceremonies, the Aztec Student Union Board, in conjunction with A.S., provided a free continental breakfast to all in attendance. Students, faculty and staff lined up around the main courtyard of the student union to wait for food as music from a string duo reverberated throughout the new space.
ASUB Commissioner Dara Majdi served food alongside the other A.S. volunteers dressed in matching Student Union shirts. The work for ASUB is far from finished, Majdi said as he rushed from station to station.
"We still have a long way to go before the grand opening," Majdi said.
Morse said the grand opening of the union will include an entire week of events starting on March 7, showcasing everything the new facilities have to offer the SDSU community. He and Majdi encouraged students and faculty to tour the building and make use of the facilities that were functional, such as Aztec Lanes and the Aztec Recreation Center Express.
Though the building is not officially open, A.S. has several activities planned for the next month, including basketball viewing parties, which will be held in the 300-seat theater, Morse said. These activities are designed to get students oriented with the building, Vice President of External Relations Javier Gomez said
"We want the union to be filled at all hours it's open," Gomez said.
Many students gathered, including anthropology senior R.J. Anaya, seemed simply relieved that the building was open.
"Most of all I'm just happy it's done," Anaya said.
Read about what the new student union offers. 
Photo by Chelsea Massey, staff photographer