Aztec designs a dream career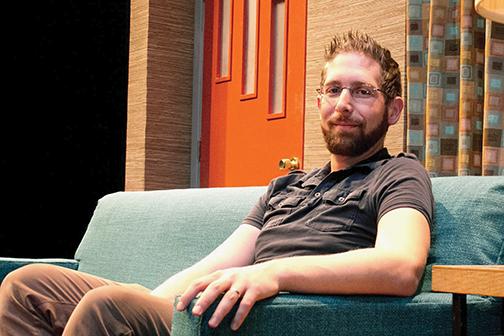 Sean Fanning is the scenic designer of "Maple and Vine." He is a San Diego State alumnus and has worked on shows all around San Diego, including The Old Globe and the San Diego Repertory Theatre. He was generous enough to take part of an email interview about his career and work on the show.
The Daily Aztec: How did SDSU train you for this position?
Sean Fanning: At SDSU, I studied with Ralph Funicello, who is the Powell Chair in Set Design, as well as professors Beeb Salzer and Nick Reid. The latter two are now retired from their positions. They are all wonderful, hugely influential people in my life as a designer. The core aim of the MFA program in design at SDSU is to provide both real and theoretical design experiences, and foster collaboration among the design areas while helping to increase the students' repertoire of skills. This equation is slightly different for each student, as they all come from various educational backgrounds and experience levels.
As an incoming student, much of my abilities as a designer were self-taught, and much acquired from a much smaller Bachelor of Arts program at Sonoma State University. But there were very clearly holes in my set of skills-aspects of the job that were still unfamiliar to me, and a cruder design aesthetic that would benefit from refinement. Ralph would tell me that I did this myself, but I believe that it was through him that I learned much of what got me where I am today – not only in sharpening my abilities and tastes as a designer, but also how to bring greater honesty, humility and conviction to my process.
TDA: For "Maple and Vine," What were some of the challenges of creating a set that represents a house in the 1950s?
SF: The interesting thing about "Maple and Vine" is that Ryu and Katha's house is not actually in the 1950s, but a modern day recreation of the 50s. The fictional re-enactment group, the Society for Dynamic Obsolescence, has carefully researched and revived the period within their gated community where it is always 1955. In this sense, the SDO's 50s, while technically accurate, are more idealized and artificial. It is like imagining a community that was born yesterday, out of only furniture and food advertisements of the period, and by people who were not even alive at the time. So, the challenge, really, is that everything must be incredibly specific and seem incredibly new.
TDA:  Any advice for students studying set design?
SF: You should never stop learning, never stop being fascinated by things. Our brains are constantly forming new connections. Listen to your gut; often your first instinct is, if not technically correct, the most emotionally honest. It is very, very important to love what you do, to love your work. That is what will keep you coming back to it time and time again. In the same breath, I'd say it's important to not let the work represent your value as a person. This pitfall is so common in the business-I would say it has been the cause of ruin for many great artists. You will do a lot of projects that you love, and a lot of projects that, for whatever reason, are not as successful. Your work does not define you. You define it.
Students younger than 30 can watch "Maple and Vine" for $20 and enjoy a post-show mixer on Feb. 7 by becoming a member of the discount club, CygNext.
Update: This article has been updated to correctly identify the photographer, Daren Scott
Photo courtesy of Daren Scott