Weekend Picks: A Space Show and New Art Exhibits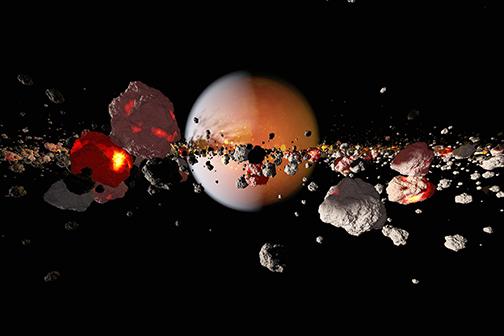 Every week, the Entertainment staff writers recommend local events for the weekend. Here are some choices from staff writers Alek Sanchez and Ryo Miyauchi.
Alek's Picks
Totally Enormous Extinct Dinosaurs
Straight from the UK, Totally Enormous Extinct Dinosaurs is coming to San Diego! Performing this Thursday, Jan. 30, at 9 p.m. at Bang Bang on Market Street. TEED brings a kaleidoscopic range of sound that blends deep, groovy house beats with melodic electronica. With a collaboration with Dillon Francis for "Without You", and a remix of Disclosure's "F For You" under his belt, TEED has been on fire as of late. This is a can't-miss show.
Cosmic Collisions
Narrated by award-winning actor, director and producer Robert Redford, this stunning documentary features incredible images from space. The breathtaking visualizations reveal the explosive encounters that shaped our solar system, changed the course of life on Earth and continue to transform our galaxy and dynamic universe. "Cosmic Collisions" is playing in conjunction with the arrival of two new comets making appearances in the sky in 2013. Head over to the Reuben H. Fleet Science Center and check it out.
Ryo's Picks:
Prix Pictet: Power
New and exciting art exhibits are opening up this weekend around San Diego. On Saturday, Feb. 1, Museum of Photographic Arts located in Balboa Park will open the Prix Pictet: Power exhibition. The Prix Pictet prize is an award celebrating photography as an instrument to highlight social and environmental issues. Every year, Prix Pictet chooses a theme of focus. In the past, "Water," "Earth," and "Growth" were chosen. For this year's prize, the central theme is "Power." The photographs on view are selected works from photographers nominated for the Prix Pictet prize, including the prizewinner, Luc Delahaye.
X-TO+J-C: Christo and Jeanne-Claude
On Sunday, Feb. 2, the La Jolla location of Museum of Contemporary Art San Diego will open its new exhibition, "X-TO+J-C: Christo and Jeanne-Claude Featuring Works from the Bequest of David C. Copley." Artists Christo and Jeanne-Claude have been collaborating together for more than 40 years, creating art in varying sizes that play with the imagination. Their 1960 work "Wrapped Package" from their series "Wrapped Objects, Statues and Women" is one of the highlighted works featured in the exhibit. The artists' conceptual drawings for the realized and unfinished projects will be featured as well. For a more in-depth look at the selections, a Curator's Perspective gallery walk-through will be offered on Monday, Feb. 3 with the museum's associate curator, Jill Dawsey.
Also read: Weekend Picks: Theater and DJ Sets