SDSU partners with Fanpics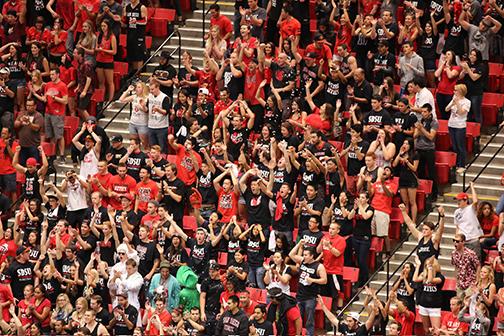 Earlier this month, San Diego State approved a partnership with Fanpics, an app that allows fans access to photos of themselves throughout a sporting event.
The app launched at the Jan. 18 men's basketball game against University of Nevada, Las Vegas. By signing up for the app and entering their seat numbers, fans could receive six to 10 pictures of themselves throughout the game.  The app will be used for all of the remaining men's home basketball games of the season, according to NewsCenter.
"Our cameras are installed on the upper perimeter of the arena," Fanpics co-founder and Head of Marketing and Product Development and 2008 SDSU alumnus Marco Correia said. "They're triggered during a big moment, like a three-pointer, and take a picture of all of the surface area in a couple of seconds."
SDSU Associate Athletic Director Steve Schnall said the partnership has been mutually beneficial.
"We thought it was a good opportunity for us to give the fans the best experience that they wouldn't have if they were watching on TV," Schnall said.
The pictures are owned by Fanpics and are free to download. Prints can also be purchased through the app, Schnall said. At the Jan. 18 game, more than 500 people downloaded the app at the game after a pregame announcement.
"I think the Fanpic app sounds awesome," nursing freshman Sierra Smith said. "Fans at games are very spirited and this just offers another way to show school spirit."
The Jan. 18 game also marked the global launch of Fanpics.
"We're excited to have SDSU as the first place," Correia said.
The partnership began about four months ago when Fanpics reached out to SDSU to be the company's pilot program.
"We were originally thinking about doing football, but it made more sense to do it in an arena and was easier timing," Correia said. "Also, my Aztecs are kicking butt this season."