Hollywood Happenings — Super Bowl special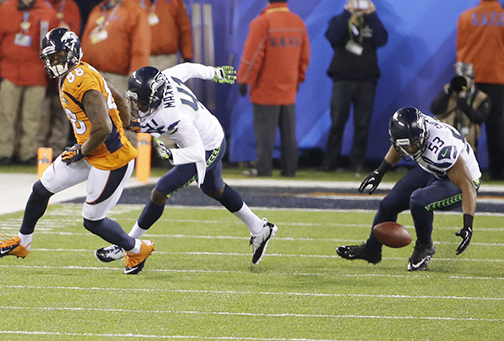 Celebrity of the Week
The Super Bowl, which took place last Sunday afternoon, has once again broken records by acquiring the title of the most-watched television event in the history of the U.S. While several players had their fair share of great moments, there was one player in particular who stood out from the rest.
Malcolm Smith, a linebacker for the Seattle Seahawks, won the title of Most Valuable Player for Super Bowl XLVIII, making him the eighth defensive player in history to receive this great award. From intercepting the Denver Broncos quarterback Peyton Manning's pass to recovering a fumble by Broncos receiver Demaryius Thomas, it was evident Smith was a key reason in why the Seahawks won the game. Overall, he was responsible for nine tackles and two passes defended. His hard work and determination did not go unnoticed by officials who recognized Smith's skills with this award.
Sightings
Whether they were cheering at the big game or simply at a party watching the TV screen with friends and family, several stars were seen supporting their favorite teams on Super Bowl Sunday. Those spotted at the game included Victoria's Secret model Alessandra Ambrosio, Hugh Jackman, Harry Connick, Jr., Jennifer Garner, Macklemore and many others. While these stars got into the spirit at the stadium, many others celebrated this worldwide event at clubs or bars where they cheered on their team with fellow celebrities and football fans. Paris Hilton was seen DJing at the Leather and Laces party, where James Marsden and Joey Fatone were also seen. Justin Bieber was spotted at the Big Game Weekend event at ESPACE. Other celebrities were seen at the Playboy pre-Super Bowl party, where Nelly took over the stage to give a great pre-game performance.  These celebrities definitely enjoyed Super Bowl Sunday right.
Romance
Singer John Legend and wife Chrissy Teigen put on their game faces for DirecTV's 8th annual Celebrity Beach Bowl at New York City's DTV SuperFan Stadium, according to Eonline. To make things more interesting, the two played on opposite teams and competed with each other. Even though Legend's team won, it seems as if there were no hurt feelings off the field as Tiegen smiled at her husband holding the Beach Bowl trophy.
Model Kate Upton, who was previously in a few racy Super Bowl commercials, snuggled up with Detroit Tigers' Justin Verlander at the GQ Super Bowl Party.  According to the New York Daily News, the two used to be an item and may be trying to rekindle their romance.
Trivia
1. What female singer had a wardrobe malfunction while performing with Justin Timberlake during the Super Bowl halftime show in 2004?
A. Britney Spears
B. Janet Jackson
C. Gwen Stefani
D. Lady Gaga
2. The first three Super Bowl halftime performances, from 1967 to 1970, were put on by college marching bands. Who was the first non-marching band performer in 1970?
A. Cher
B. Blondie
C. Carol Channing
D. Channing Tatum
3. What star's Super Bowl halftime show received the highest views with 115.3 million viewers tuning in?
A. Bruno Mars
B. Michael Jackson
C. Madonna
D. Paul McCartney
4. Who was the first male halftime performer in 1979?
A. Mick Jagger
B. Ken Hamilton
C. Prince
D. Elton John
5. In 1996, this 1960s Motown singer performed not only the halftime show, but had a finale in which she was flown out of the Super Bowl stadium by helicopter. Which singer was it?
A. Aretha Franklin
B. Martha Reeves
C. Mary Wells
D. Diana Ross
Answers: 1. B 2. C 3. A 4.B 5.D
Also read: Hollywood Happenings-GRAMMYS Red Carpet Recap
Complied by Brooke Schlyer and Bekah Haynes
Photo courtesy of J. Patric Schneider/MCT