Polee II rescues aztecs to 19th straight victory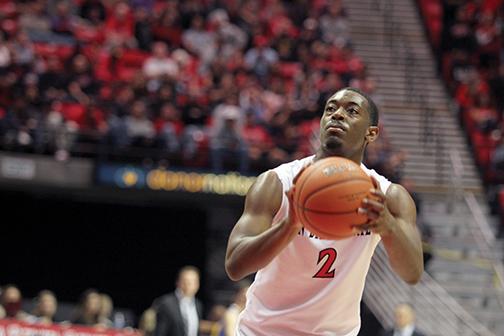 The Associated Press No. 5 San Diego State Aztecs defeated the Boise State University Broncos 67-65 on the road Wednesday night in game winning fashion.
Trailing 65-64 with 4 seconds remaining, junior forward Dwayne Polee II nailed a 3-point shot from the left wing to stun the Broncos, as the Aztecs overcame a 14-point deficit to extend their winning streak to 19 games.
At the half, SDSU trailed 42-33, and eventually dug themselves into a 14-point hole and trailed 57-43 with 13:37 remaining. Senior guard Xavier Thames led the Aztecs on an 18-2 run to bring SDSU back, finishing with a game high 23 points.
The Aztecs will look to extend their winning streak to 20 when they return home against the University of Nevada, Reno at 7:00 p.m this Saturday, Feb. 8 at Viejas Arena.
Photo by Jenna Mackey, Senior Staff Photographer