Women's golf drives for a title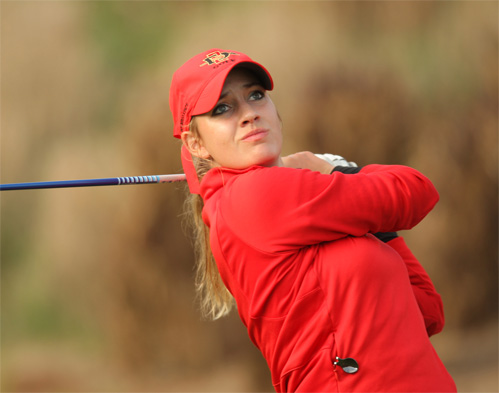 After a win at the Las Vegas Colliegate Showdown and four top-10 finishes in four fall events, the San Diego State women's golf team is poised to make a legitemate run at the conference title this year.
Golfstat.com and golfweek.com have the women's team ranked at No. 37 and No. 41 respectively, which is higher than any of its Mountain West opponents, including the 2013 champion, the University of Nevada, Las Vegas.
The Lady Aztecs' early success is largely because of the outstanding play of freshman Sirene Blair.
Blair has finished as the team's low scorer in every event so far this season, including medalist honors in Las Vegas. The first year player carries a No. 21 ranking from golfstat.com and is establishing herself as an early favorite for Mountain West Freshman of the Year.
[quote]"This is such an amazing school and I've had such an amazing experience here," Blair said. "To represent them in such a great way has really been a privilege and an honor. Once I started getting in contact and visiting with the school, I knew I wanted to come here."[/quote]
Blair is picking up right where sophomore Emma Henrikson left off last year. Henrikson compiled two top-10 finishes in her freshman campaign and a stroke average of 75.69, which led her to recieve Freshman of the Year honors and First-Team All-Mountain West recognition.
Although she has only finished in the top 10 once so far this season, Henrikson has lowered her stroke average to 73.73 and has kept her play consistent. Golfstat.com currently has her ranked 97th in the country.
[quote]"I try not to focus too much on rankings and all that," Henrikson said. "I just try to play my game. My No. 1 goal is to win a tournament. As a team, we have a goal to become Mountain West Champions, which I really think we can do this year."[/quote]
The team will kick off its chase for the MW trophy on Feb. 15 at the Peg Barnard Invitational hosted by Stanford.
Confidence from a win in the Aztecs' last tournament will play a huge part going into the spring against a higher level of competition. Fortunately, they got a taste of the winner's circle early, and there's no doubt this experienced team can compete well in every event this season.
 Photo courtesy of Stan Liu/ SDSU Athletics