An 'I' in tennis, but no 'I' in team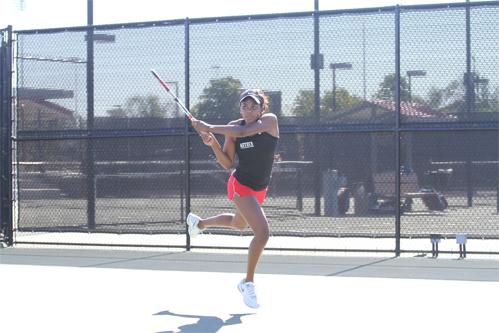 On Tuesday before practice at the Aztec Tennis Center, freshman Olivia Larsson was enjoying carrots, freshman Kennedy Davis gave junior Hailey Johnson a coffee mug with Ron Burgundy's face on it, and head coach Peter Mattera was grinning.
Mattera loves what he does and is in his 20th season coaching women's tennis at San Diego State. He said success comes from how the team bonds, and if this year's team is any indication of things to come, then it could really be something great.
On the court, the Aztecs are led by their lone senior and captain, Laura Antonaña Iriarte, who hails from Spain.
As the only senior, she feels a little bit of responsibility and said she wants to "set the bar so they hopefully follow that."
She isn't the type of captain who gives orders, but at practice it would have been apparent to a random person that she is the captain. During warmup drills, coach Mattera used Iriarte's swing as an example of what everyone should be trying to do.
Seven different countries are represented on the women's tennis roster of eight players and they are "super close," Davis said. Davis is from Archbishop Mitty High School in San Jose.
Everyone I talked to had similar answers, such as, "We are very close" or "We spend a lot of time together." Iriarte even told me a story of how a few of the European players got together in Europe for New Year's Eve.
During practice, Iriarte's hitting partner was Dora Somoracz, a sophomore from Hungary. Sophomore Tami Nguyen was born in the U.S. and moved to the Philippines before coming back to America.
Junior Kristin Buth is from Germany and Iriarte's doubles partner this season. Sophomore Isabelle Hoorn, from the Netherlands, went 18-8 in doubles last season.
Mattera said the players all have their own unique stories of how they ended up at SDSU, and there isn't necessarily a by-the-book recruiting process. They all might come from different places, but Mattera is the reason they can shatter the commonly-held stereotype of tennis being an individual sport. Johnson said Mattera was "99 percent of the reason" why she transferred to SDSU.
Former Aztec Alicia Aguilar played four seasons under Mattera, and described him as being "kind of like a father to us." She also said the teams she played on were also a close group like the one this season, and credits the fatherly influence paired up with assistant coach Lindsey Gamp, who also played under Mattera from 2000-03 and was a four-year letterwinner. Aguilar said the two of them are a huge factor in getting the team to be close, and that they're very good together.
Aside from the team being a tight-knit group, there are a couple things that stand in the way of an 11th conference title for Mattera. The first, he said, will be to stay injury-free. With eight players on the roster, there's not much room for injury. Another issue may be a new experimental match format being used by the Intercollegiate Tennis Association. Essentially, the new format makes matches shorter, something Hailey Johnson called "uncomfortable." But she, Iriarte and Gamp all agreed that mental toughness would play a huge part.
Mattera said many of the teams in the Mountain West Conference have new players, but San Jose State Unversity, Fresno State Unversity, University of Nevada, Reno, and University Nevada, Las Vegas would be tough this year. As he put them, "the usual suspects."
That being said, Mattera is very hopeful and has high expectations for the team this season, a team that plays two-thirds of their remaining matches at home, and also went undefeated in conference play last season. This season should provide plenty of opportunities for the Aztec faithful to see just exactly how the women's tennis team is indeed a team.
 Photo by Kristian Carreon, Staff Photographer