Zura renovation to displace more than 500 students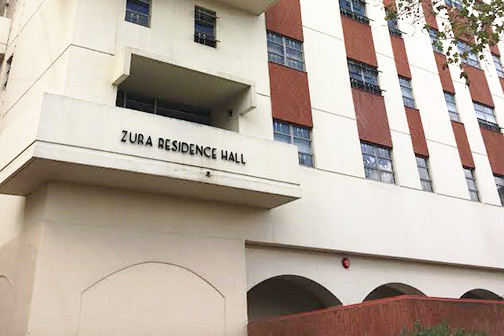 Co-written by Raquel Herriott, staff writer
San Diego State  is working with Aztec Shops Ltd. to secure housing space for the more than 550 freshmen that will be uprooted during Zura Residence Hall's renovations scheduled for May 2014 through July 2015.
Director of the Office of Housing Administration, Eric Hansen said the building would undergo a complete renovation, focusing on common spaces and resident rooms, as well as electrical, plumbing, and mechanical upgrades.  The renovation is expected to cost around $50 million.
Residence halls are mainly targeted to first-time freshmen, Hansen said.
SDSU purchased The Granada for $25.75 million in Sept. 2013 and will make it available to incoming freshmen this fall, Associate Vice President of Operations Bob Schulz said.
Separate from SDSU, Aztec Shops purchased College West for $4.75 million and may rent Albert's College apartments in order to accommodate students, however, details are still being determined for its availability in the future.
"The current plan is up to three buildings will be used by housing for students who are living technically on campus with the Housing License Agreement" Director of Business Development and Contract Housing R.D. Williams said.
SDSU will accommodate students who desire to live under university-administered housing by using the space that would be typically available at Zura Hall and spreading it out to different buildings.
"Right now between the university and Aztec Shops, we have not only all the traditional residence halls, we have quite a few apartments available," Williams said. "That allows us to make moves like this to make sure we have enough spaces to accommodate everybody."
Residential education is currently calculating the number of new hires needed for the upcoming academic year based on the occupancy of the residence halls.
On average, there are 40 students to each resident adviser for first-year student occupied buildings and 60 to one ratio for upper division apartments, Director of Residential Education Christy Samarkos said.
"We generally hire one residence hall coordinator per residence hall or apartment that we operate," Samarkos said. "We believe, based on enrollment and occupancy estimates, that we will be hiring a handful of additional staff compared to past years."
Residential education currently employs seven residence hall coordinators and 100 Resident Advisers.
Photo by Kelly Smiley, staff photographer