Clooney and Crew try to save culture in "The Monuments Men"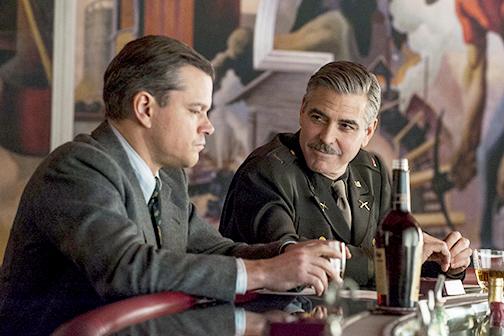 Where do I begin with "The Monuments Men?" Digging past the mismatched tone set by the marketing company, "The Monuments Men" has its heart in the right place, but doesn't do enough to firmly satisfy the audience, no matter how star-studded the cast may be.
On the surface, it may appear that this is another George Clooney and company romp a la "Ocean's 11" set in World War II Europe. Though that would have been more redeeming and inevitably more exciting,  "The Monuments Men" lacks any cleverness to make that comparison. What we're left with is a vanilla, Plain Jane film that you can't particularly hate, but certainly won't be excited about.
Clooney, who directed, co-wrote and starred in the flick, stands at the forefront to try and glue this ragtag group of art experts and historians together.  "The Monuments Men" follows the men as they try their best to maneuver a war-torn European countryside in hopes of preserving the art and culture that's been forgotten about amid the fighting. The sentiment starts out strong, but its fire quickly runs out by the conclusion. "The Monuments Men" does have some redeeming parts throughout, especially the group's resilience and understanding of the current situation. The fact however, stands,that at the end of the day, they aren't the ones calling the shots, but falling in line with them. The Army isn't particularly keen on holding back from blowing up a building because it contains a few precious paintings, and it certainly won't refrain if the Germans use it as a hiding place. The roadblocks that "The Monuments Men" face are real and practical, but it's their endearing love for the preservation of culture, even in the face of death, that keeps them going.
By no means is "The Monuments Men" a terrible movie, but neither is it a memorable one. There are touching and poignant moments littered throughout the tale. However, the final cut serves as a testament that no amount of appealing actors can redeem a weak script. Clooney's flick seems more commonplace for a late-night run on TNT, or relegated to Friday night rentals from Redbox.
Also read: Catch up on The Daily Aztec's favorite films of 2013
Photo courtesy of Columbia Pictures/MCT