A fresh and honest cautionary tale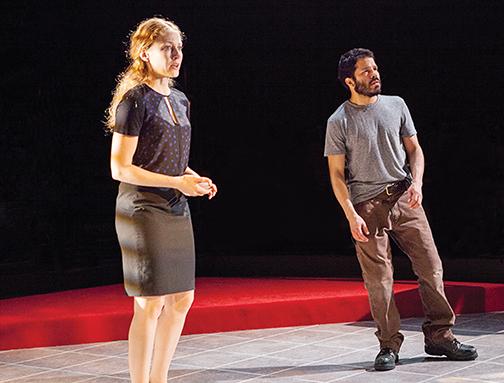 In the spirit of the show must go on, I saw "Bethany" at The Old Globe Theatre the evening that prop master Seamus O'Bryan died in a hit-and-run motorcycle accident. The only evidence that something tragic occurred was the grief etched on the faces of the cast as they took their final bows.
Crystal (Jennifer Ferrin) lives in a foreclosed house with a squatter, Gary (Carlo Alban), after the American real estate crisis of 2009. She is an optimistic and mysterious worker at a Saturn dealership whose reasons for living such an unusual lifestyle are unclear. Her personal and professional lives begin to spiral out of control when she tries to sell a sports car to a motivational speaker, Charlie (James Shanklin).
The subject matter regarding poverty makes Laura Marks' script timely. Through Crystal and Gary, the audience sees how they are affected by the Great Recession. Crystal tries to maintain a positive attitude, while Gary is an antisocial loner who believes in bizarre conspiracy theories that make him come across as a dangerous loser.
"Bethany" also works as a character study. Crystal appears to have it all together in spite of her situation, but is hiding information about her past. Her secret provides the emotional center of the tale.
Ferrin, who some might know from the AMC television series, "Hell on Wheels," infuses Crystal with an immensely likeable presence. Her outlook allows viewers to always be on her side, even when the situations become more surreal.
Alban makes Gary a spooky antisocial oddball with a big temper. His melancholy facial expressions make him occasionally empathetic, even though clearly he is mentally unstable.
Shanklin's sly delivery makes him believable as a man trying to inspire men and women. His role leads to some shocking revelations.
Director, Gaye Taylor Upchurch's staging is minimal, but effective. He uses Lauren Helpern's scenic design and Japhy Weideman's lighting to expertly handle the contrasts between Crystal's dark abode and the significantly brighter car dealership.
A problem I do have is with the marketing of "Bethany." It is being labeled as a dark comedy, though the production is really an intense drama. Marks' dialogue includes situational humor and sharp satire, but there are many scenes that are uncomfortable to watch that have little to no laughs.
"Bethany" deals with complex subject matter with a consistently captivating heroine and a creepy and unforgettable supporting role. It is a testament to everyone involved that the evening went off without a hitch, even though a horrific event happened earlier that day. O'Bryan will be missed.
Also read: Heart-to-heart with Aztec star
Photo courtesy of Jim Cox