Participate in the BodyCartography Project on campus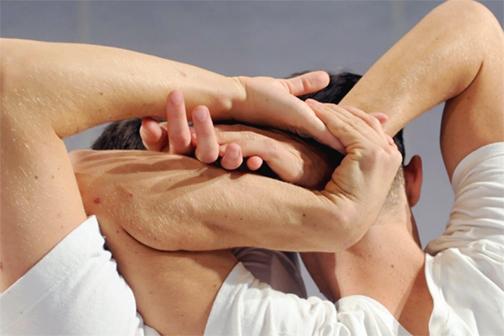 At its core, dancing is a body reaction as a response to its surroundings. Exploring this primal root to dancing and performance is the BodyCartography Project. Using the body and movement as its main form of creative expression, the Project explores the connection between people and their environment. As a stop on its short tour, the BodyCartography Project will share a performance this week at the Dance Studio Theatre, located in room 200 of the Exercise Nutritional Science building here on campus.
The BodyCartography Project is a collaborative project between two artists, Olive Bieringa and Otto Ramstad. Many works of the BodyCartography Project are rooted somewhere primal and personal in an individual. Bieringa and Ramstad dig deep into a simple idea that can be found daily. While theater performances are its main creative mediums, the Project has created video and installations works in the past.
"Super Nature," the Project's most recent work, is a theater performance that presents their creative mission. Split into two parts, the event has Bieringa and Ramstad exploring humans at their most primal state. The first part is separate from the main performance, as each member of the audience is invited to interact one on one with a dancer. For the featured performance of "Super Nature," the cast and its interactions are powerfully captured at its most visceral. It also challenges viewers through its intense energy to engage on the experience and connect with their own response.
The performances that the BodyCartography Project will be presenting here on campus are a performance piece "Jump" and a new untitled piece. "Jump" features a cast continuously jumping in place. It gets a bit physically exhausting to watch, and that seems to be one of the very responses the project tries to get from the audience. The untitled piece features Ramstad performing solo with nothing else on stage. As soon as the music starts, Ramstad responds to every beat and rhythm in a spontaneous fashion. He then moves off stage and invites random audience members to join him in dance.
On Feb. 14th, the project will start its show at 7:30 p.m. at the ENS Dance Studio Theatre. Admission is $15 and $10 for students. Join in as a participant in the ongoing BodyCartography Project.
Also read: Diverse shorts featured at film festival
Photo courtesy of Lizbeth Price