Hollywood Happenings: featuring Victoria Beckham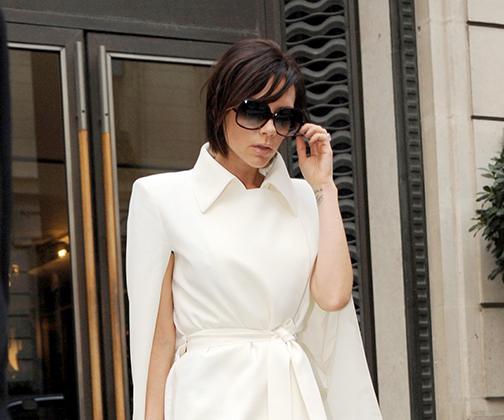 Celebrity of the week (Bekah Haynes):
Former Spice Girl and world famous fashion designer Victoria Beckham presented her new fall/winter 2014 fashion collection at the Mercedes-Benz Fashion Week that took place on Sunday, Feb. 9. 2014 in New York. She wowed the audience, incorporating new changes in her designs while keeping them as classy and creative as before. Victoria was accompanied by her husband, former soccer star David Beckham, as well as their four children, Brooklyn, Romeo, Cruz and Harper. The family supported her and cheered her on as she hit the runway to close her portion of the show. It's evident that her new collection is bound to be a great success.
Sightings (Bekah Haynes): 
Shia LaBeouf has made headlines recently with his bizarre behavior for the "Nymphomaniac" premiere at the International Film Festival Berlinale last weekend. He was seen wearing a paper bag that covered his face and read, "I Am Not Famous Anymore," according to Eonline. A few days later he was spotted at the Los Angeles International Airport. This time, however, he sported a casual look that did not include a paper bag that covering his face. Whether the paper bag act was a cry for attention or was just a way to humor his fans, his actions did not go unnoticed.
Romance (Brooke Schlyer):
With Valentines Day right around the corner, love must be in the air. R&B musician and record producer Kenneth "Babyface" Edmonds has asked his girlfriend of seven years, Nicole Pantenbug, to tie the knot. Edmonds sounds excited about the announcement, telling Eonline, "I'm happy to say I'm on the love marriage path. I'm a very lucky guy." We send our best wishes to the newly engaged couple.
While Edmonds and Pantenburg are recently engaged, long-time married couple Beyonce and Jay Z took an exotic vacation together, PopSugar reported. Beyonce shared some personal moments with fans via her blog, including video and photo of Jay Z with their daughter Blue Ivy and a video of her jumping off a yacht and splashing into the blue water below. In the video, fans can hear Jay Z watching the singer jump as he yells, "She's off!"
Trivia (Brooke Schlyer): In remembrance of Shirley Temple Black, who passed away at the age of 85 on Feb. 10, we will have a special trivia dedicated to her.
1. What was Temple's nickname?
A. Dimples B. Curly Cue, C. America's Little Darling D. Shortie
2. What Fox film was Shirley Temple's first major break in the entertainment industry?
A. Gone with the Wind B. Stand Up and Cheer C. The Wizard of Oz D. Show Business
3. Temple acted in short films, feature films and storybook movies from 1931 until 1961. How many total films did she appear in?
A. 82 B. 121 C. 79 D. 52
4. After leaving the film industry, Temple went on to become the first female U.S. Chief of Protocol, a U.S. Representative to the United Nations, U.S Ambassador to the Republic of Ghana and the U.S. Ambassador to what other country?
A. Germany B. Brazil C. Czechoslovakia D. Canada
5. In 1931, Temple got her first acting job playing in parodies of famous films, but with all-child cast members. How much was she paid to work a day?
A. $100 B. $50 C. $25 D. $10
Answers: 1. C 2. B 3. A 4. C 5. D
Also read: Hollywood Happenings – Super Bowl special
Photo courtesy of Briquet/ABACA press/MCT