Make time for office hours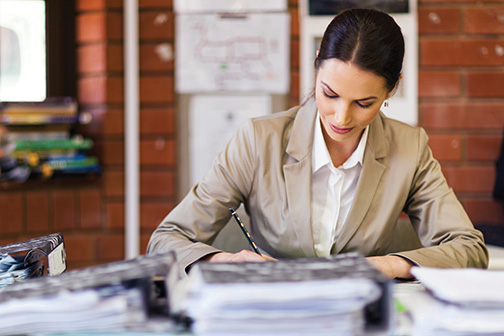 The holiday cheer is gone and the school grind is back in motion. With the new semester, a clean slate to bag that perfect GPA is once again in reach.
However, no matter how many study groups or annotated chapters students go through, it sometimes seems impossible to earn a passing grade to be proud of. Alas, don't despair, for I have the secret to achieving the grades you know you deserve.
Attend your professor's office hours. It's as simple as that.  I know some readers were expecting something more taboo, but don't boot it until you've tried it. Even if you have tried it, there are always second chances.
The first time I attended office hours, I was appalled with how rare it is for students to actually utilize a professor's time. With them practically throwing it in our faces, it's hard to believe that less than a handful of students take advantage of the one-on-one help that's available. San Diego State political science professor Ronnie Schreiber said that she would only see about five percent of her 500-student classes during her office hours throughout the semester. What do you think they are there for? Professors are literally waiting for students to come in and ask questions. That's part of their job.
"I wish that if students had concerns … instead of either using email to try to articulate a concern and never come talk to me, or if they're floundering in class, I wish they would come to office hours as opposed to waiting until the very last week," Schreiber said.
A common misconception about office hours is that they're a complete waste of time. If you couldn't learn in class, how is learning during office hours any different? This type of thinking is the key to a failing grade. The fact that a student has the professor's undivided attention is already a clear indicator that the content he or she is struggling with will be dissected thoroughly.
Another problem students have is making it to office hours. It can sometimes be difficult to meet a professor's availability, but this is where you have to pick your battles. It's ultimately the student's choice whether he or she thinks a passing grade is worth it. Not only that, but some professor's are open to setting individual appointments.
Trust me, I used to have similar skepticism regarding office hours. I used to question them and never understood the need for such time. I used to say to myself,  "Pay more attention next time and it'll eventually become clear." However, we all know this is nothing but a pipe dream.
My fall semester is a prime example of exactly this. I'm a journalism major who struggles in any class that isn't writing-based. I was enrolled in a course that I knew I was going to struggle in from the get-go. Lo and behold, a third of the way into the semester I found myself with a 56 percent and only two exams left to salvage what I had. Might I also add, I needed a 75 percent for it to count toward my major. At this point, I had two choices: I could follow my old philosophy and study more and hope for the best, or I could set aside my ego and get real help from the instructor. After several visits of individual instruction from the professor, I passed the class with an 85 percent. That's a bump from an F to a B. I was proud, but not surprised. I knew the extra help had thoroughly prepared me for the upcoming exams.
The only regret I have is not taking advantage of the professor's time until recently. Not only do you get the extra help, but you can also build a relationship with them. If you're a student who refrains from asking questions during class, you should already know that the professor is more than happy to speak with you separately.
"We list office hours and we have them for a reason. Students shouldn't be afraid to come," Schreiber said.
Take it from me: Don't waste your time complaining about a difficult class and instead use that energy to get the help you need. I know going out of your way to see an instructor can be a burden, but which would you prefer: seeing your professor at their convenience or retaking a class that you already had trouble with the first time around? Avoid the potential downward spiral and take advantage of these amazing opportunities offered by your professors. With SDSU being such a large university, the students are privileged to have professors who are willing to offer individual help, and it's time more Aztecs took advantage of it.
Photo courtesy of Thinkstock